September 1, 2018
Avva Kano Kannada Song Lyrics | Pallakki
Avva Kano Kannada Song Lyrics | Pallakki: Avva Kano Kannada is a song from the 2007 Kannada movie Pallakki, directed by K. Narendra Babu and written by Paramesh. The film was produced by Prem Kumar under the banner P2 Productions.
Pallakki features Prem Kumar, Ramanithu Choudhary, Ramesh Bhat, Sharan, Doddanna, Bullet Prakash, Navarasa Ramakrishna, Sanjeev, Biradar, Shankhanada Anjanappa, Sumithra, Anitharani, Sunitha, Soumya, Radha Kamath, Divya Sridhar, Monika, Baby Madhushree, Editor Shyam and others.
Jhankar Music is the music label of this movie. This song was written by Shivananje Gowda and composed by Gurukiran. Avva Kano Kannada song was rendered by playback singer S. P. Balasubrahmanyam.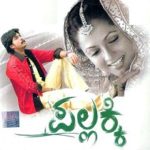 Avva Kano Kannada Lyrics
Movie: Pallakki [2007]
Audio Label: Jhankar Music
Music by: Gurukiran
Lyrics by: Shivananje Gowda
Singer: S. P. Balasubrahmanyam
Check out the lyrics here..
Kannada Kannada
Kannada Kannada
Avva Kano Kannada
Nam Jeeva Kano Kannada
Nam Avva Kano Kannada
Nam Jeeva Kano Kannada
Daiva Kano Kannada
Nam Gharva Kano Kannada
Sidhdha Kano Prana Kodoke
Ee Nela Jala Naada Nudige
Ee Nela Jala Naada Nudige
Nam Avva Kano Kannada
Nam Jeeva Kano Kannada
Daiva Kano Kannada
Nam Gharva Kano Kannada
Mysura Mallige Kampalli Kannada
Kodagina Kaadina Impalli Kannada
Jenu Jinugo Bhasheno
Preethi Suriso Chilumeno
Malnaada Akkare Naguvalli Kannada
Mandyada Sakkare Saviyalli Kannada
Namma Nudiye Chandano
Namma Padeve Andano
Nam Avva Kano Kannada
Nam Jeeva Kano Kannada
Daiva Kano Kannada
Nam Gharva Kano Kannada
Sidhdha Kano Prana Kodoke
Ee Nela Jala Naada Nudige
Ee Nela Jala Naada Nudige
Kannada Kannada
Kannada Kannada
Belagavi Mannina Maiyalli Kannada
Hubballi Haidana Edeyalli Kannada
Ammanedeya Haleno
Swaccha Sudheya Bhasheno
Mangloora Sagala Aleyalli Kannada
Beloora Shilpada Kaleyalli Kannada
Anna Koduva Hasheno
Anna Nudida Nudi Kaano
Nam Avva Kano Kannada
Nam Jeeva Kano Kannada
Daiva Kano Kannada
Nam Gharva Kano Kannada
Sidhdha Kano Prana Kodoke
Ee Nela Jala Naada Nudige
Ee Nela Jala Naada Nudige
Avva Kano Kannada
Nam Jeeva Kano Kannada
Daiva Kano Kannada
Nam Gharva Kano Kannada
Pallakki Kannada Movie Songs Lyrics
Avva Kano Kannada
Bidu Bidu Bidu Kaddu Kaddu Nododanna
Kannallu Neenene
O Priya [Male]
O Priya [Female]
Goli Maro Kaalu Yeleyo Mandigella
Intha Shaapa
Comments
comments