September 1, 2018
Kannalu Neenene Oho Kandallu Neenene Lyrics | Pallakki
Kannalu Neenene Oho Kandallu Neenene Lyrics | Pallakki: Kannalu Neenene Oho Kandallu Neenene is a song from the 2007 Kannada movie Pallakki, directed by K. Narendra Babu and written by Paramesh. The film was produced by Prem Kumar under the banner P2 Productions.
Pallakki features Prem Kumar, Ramanithu Choudhary, Ramesh Bhat, Sharan, Doddanna, Bullet Prakash, Navarasa Ramakrishna, Sanjeev, Biradar, Shankhanada Anjanappa, Sumithra, Anitharani, Sunitha, Soumya, Radha Kamath, Divya Sridhar, Monika, Baby Madhushree, Editor Shyam and others.
Jhankar Music is the music label of this movie. This song was written by V. Manohar and composed by Gurukiran. Kannalu Neenene Oho Kandallu Neenene song was rendered by music director Gurukiran.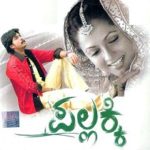 Kannallu Neenene Lyrics
Movie: Pallakki [2007]
Audio Label: Jhankar Music
Music by: Gurukiran
Lyrics by: V. Manohar
Singer: Gurukiran
Check out the lyrics here..
Yeeeee.. Ahhhhh.. Ahhhh..
Aa Aaa Aaa Aaa Aa Aa
Oho Kannalu Neenene Oho Kandallu Neenene
Oho Nannallu Neene Kaanuve
Oho Kunthallu Neenene Oho Ninthalle Neenene
Yelellu Neene Kaaduve
Yare Nee Yare Heleega Bare
Na Ninnaya Kaisere
Oho Kannalu Neenene Oho Kandallu Neenene
Oho Nanallu Neene Kaanuve
Neenu Nangoskara Brahma Baredaakshara
Bidu Bidu Eee Anthara
Intha Premaankura Aada Nanthara
Kshana Kshanavu Kaathara
Priye Intha Prema Jwara
Bandilla Inna Yavathara
Daye Thori Thaare Vara
Innega Saaku Prashnothara
Ondaagaluu Athura
Oho Kannalu Neenene Oho Kandallu Neenene
Oho Nannallu Neene Kaanuve
Oho Kunthallu Neenene Oho Ninthalle Neenene
Yelellu Neene Kaaduve
Yare Nee Yare Heleega Bare
Na Ninnaya Kaisere
Indu EE Youvvana Thandu Premaayana
Kana Kanavuuu Kampana
Eega Yella Dina Ninde Paarayana
Japisalu Nee Kaarana
Bari Sonneyagidde Naa
Nannalli Ninne Nee Thumbide
Nudiyanne Marethidde Naa
Egeega Kanne Mathaadide
Nee Modiyaa Maadide
Oho Kannalu Neenene Oho Kandallu Neenene
Oho Nannallu Neene Kaanuve
Oho Kunthallu Neenene Oho Ninthalle Neenene
Yelellu Neene Kaaduve
Pallakki Kannada Movie Songs Lyrics
Avva Kano Kannada
Bidu Bidu Bidu Kaddu Kaddu Nododanna
Kannallu Neenene
O Priya [Male]
O Priya [Female]
Goli Maro Kaalu Yeleyo Mandigella
Intha Shaapa
Comments
comments