July 4, 2018
Gaajina Mane Idu Lyrics | Gaajina Mane
Gaajina Mane Idu Lyrics | Gaajina Mane: Gaajina Mane Idu is a song from the 1999 Kannada movie Gaajina Mane, directed by K. V. Jayaram based on the kannada novel of the same name by Kannada writer Dr H. Girijamma. The film was produced by K. V. Jayaram under the banner Jayadurga Combines. Gaajina Mane features Ramkumar, Prema, Shivadhwaj, Krishne Gowda, Bablu, Jeenraj, Umesh Bankar and others. Lahari Music is the music label of this movie. This song was composed by Gandharva with lyrics penned by Sundar. Gaajina Mane Idu song was rendered by K. V. Jayaram.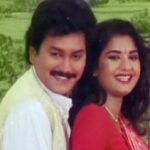 Gaajina Mane Idu Lyrics
Movie: Gaajina Mane [1999]
Music Label: Lahari Music
Music: Gandharva
Lyrics: Sundar
Singer: K. V. Jayaram
Check out the lyrics here..
Gaajina Mane Idu Gaajina Mane
Sneha Illi Haalina Kene
Bandhavu Illi Baaleya Gone
Chadurada Raagiya Thene
Jaajiyanthe Najookaada Hoojiyanthe Jopaanada
Gaajina Maneyavaru Yaarigoo Kallannu Beesabaaradu
Gaajina Mane Idu Gaajina Mane
Sneha Illi Haalina Kene
Bandhavu Illi Baaleya Gone
Chadurada Raagiya Thene|2|
Ukki Bitre Muridoythade Soojiya Kone
Sooji Monegu Migilaagide Ee Gaajina Mane
Reshime Hange Naviraada Gaajina Mane
Benneya Hange Nunupaada Gaajina Mane
Idu Taj Mahal Alla Kano Gaaju Mahal |2|
Kannige Reppe Kaavalu Hannige Sippe Kaavalu |2|
Ee Gaajina Manege Yaaru Kaavalu
Ee Thalmeya Manege Neene Kaavalu
Gaajina Mane Idu Gaajina Mane
Sneha Illi Haalina Kene
Bandhavu Illi Baaleya Gone
Chadurada Raagiya Thene|2|
Jojaadi Pandavaru Rajyavannu Sotharu
Joojaadi Nalaraaja Balali Bendu Hodanu
Joojaadi Neenu Gaajina Mane Hodeyadiru
Soole Manege Hodava Yenaada Enthaada
Kajji Naayaada
Marudinave Kapiyada Sooleya Kaalige Keravaada
Ee Maatha Mareyabedavo
Bereyavara Menege Kalla Yeseyabedavo
Gaajina Mane Idu Gaajina Mane
Sneha Illi Haalina Kene
Bandhavu Illi Baaleya Gone
Chadurada Raagiya Thene|3|
Gaajina Mane Songs Lyrics
Belli Baana Kaayoke
Huduga Ee Huduga
Durgeya Kaalina Gejje
Shubha Shubha Shakunada
Bevu Bella Hanchi Kondre
Gaajina Mane Idu
Comments
comments