July 4, 2018
Shubha Shubha Shakunada Lyrics | Gaajina Mane
Shubha Shubha Shakunada Lyrics | Gaajina Mane: Shubha Shubha Shakunada is a song from the 1999 Kannada movie Gaajina Mane, directed by K. V. Jayaram based on the kannada novel of the same name by Kannada writer Dr H. Girijamma. The film was produced by K. V. Jayaram under the banner Jayadurga Combines.
Gaajina Mane features Ramkumar, Prema, Shivadhwaj, Krishne Gowda, Bablu, Jeenraj, Umesh Bankar and others. Lahari Music is the music label of this movie. This song was composed by Gandharva with lyrics penned by V. Nagendra Prasad. Shubha Shubha Shakunada song was rendered by playback singers Shashikala and B. R. Chaya.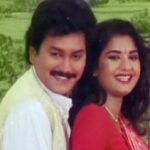 Shubha Shubha Shakunada Lyrics
Movie: Gaajina Mane [1999]
Music Label: Lahari Music
Music: Gandharva
Lyrics: V. Nagendra Prasad
Singers: Shashikala, B. R. Chaya
Check out the lyrics here..
Shubha Shubha Shakunada Hosa Aragiligale Heli Shakunaana
Thampu Kampu Beeruthiro Sooji Jaaji Mallegale Keli Kavanaana
Aaha Belagina Tharegalu Nakku Bittu Nodi Namma Ee Preethiya
Oho Hakkigalu Bali Bandu Hadidavu Eega Sneha Geetheya
Kogile Haaannnn Dani Iradiruvantha Badukali Kuhu Kuhu
Haadu Thandaana Beda Summana |2|
Shubha Shubha Shakunada Hosa Aragiligale Heli Shakunaana
Thampu Kampu Beeruthiro Sooji Jaaji Mallegale Keli Kavanaana
Mariyanu Kaayuva Maina Marada
Mareya Thaa Seride Gutukanu Needide
Nannanu Kaayuva Neenu Magala Kareva
Thaayanthihe Mamatheya Needide
Ninna Ee Snehadinda Chinthe Marethene
Nimmellara Preethi Inda Loka Marethene
Naanendigu Thaayallave Naa Ninna Gelathinamma
Shubha Shubha Shakunada Hosa Aragiligale Heli Shakunaana
Thampu Kampu Beeruthiro Sooji Jaaji Mallegale Keli Kavanaana
Hakkiya Balaga Berethu Preethi
Hanchi Baalutha Ive Chilipili Haadive
Sodariyanthiru Neenu Namage Nam Manege
Deepanakka Belakanu Needakka
Ninna Olumegindu Sothu Hodene
Nimmellara Preethi Inda Baale Belakene
Naanendigu Akka Alla Naa Ninna Jothe Gaathiye
Shubha Shubha Shakunada Hosa Aragiligale Heli Shakunaana
Thampu Kampu Beeruthiro Sooji Jaaji Mallegale Keli Kavanaana
Aaha Belagina Tharegalu Nakku Bittu Nodi Namma Ee Preethiya
Oho Hakkigalu Bali Bandu Hadidavu Eega Sneha Geetheya
Kogile Haaannnn Dani Iradiruvantha Badukali Kuhu Kuhu
Haadu Thandaana Beda Summana
Gaajina Mane Songs Lyrics
Belli Baana Kaayoke
Huduga Ee Huduga
Durgeya Kaalina Gejje
Shubha Shubha Shakunada
Bevu Bella Hanchi Kondre
Gaajina Mane Idu
Comments
comments