January 16, 2018
Baare Binkamma Lyrics
Baare Binkamma Lyrics: Baare Binkamma is a song from the 1990 Kannada movie Rani Maharani, directed by B. Ramamurthy.
The film was produced by Jai Jagadish under the banner Arpitha Arts. Rani Maharani features ensemble cast of Rebel Star Ambareesh, Kanasina Rani Malashri, Shashikumar, Jaggesh, Umashree, Doddanna, Mysore Lokesh, Umesh, Tennis Krishna, MSL Murthy, Bheema Rao, Anjanappa, Shankar Bhat, Chennayya, Shanthamma, Sithara, Prabhavathi, Master Anand, Master Guru, Master Vinay, Master Varadarajan, Master Prakash, Master Kiran Kumar, Baby Rekha, Baby Chithra and others. The film is said to be inspired from Hindi movies, Seeta Aur Geeta (1972) and ChaalBaaz (1989).
Lahari Music was the music label of this movie. This song was composed and written by Hamsalekha. Baare Binkamma song was rendered by Ramesh and Manjula Gururaj.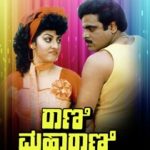 Baare Binkamma Lyrics
Movie: Rani Maharani [1990]
Music Label: Lahari Music
Music: Hamsalekha
Lyrics: Hamsalekha
Singers: Ramesh, Manjula Gururaj
Check out the lyrics here..
Baare Binkammaaaaa Muddaade Yankamma
Baaro Yankayya Muddado Mankayya
Malegilla Binka Preethigilla Sunka
Sonta Nindu Donka Nilso Ninna Konka
Haado Sumne Yanka Male Nillo Thanka
Banna Hachchid Baayi Kolu Veda Sharaayi
Arda Kupsad Maatha Aha Chapli Kelagond Goota
Ee Pyate Shokili
Minchthiya Minchthiya Minchi Minugthiyalle
Kenne Mele Koodlu Angino Thipure Baaglu
Neene Mana Thooka Nin Sontak Ond Bandooka
Ee English Shokili
Gudgthiya Gudugthiya Gudugi Gunugthiyallo
Maige Kaige Batte Bhaara Kane
Preethige Ella Hoovina Haara Kano
Baare Binkammaaaaa Muddaade Yankamma
Baaro Yankayyaaaa Muddado Mankayya
Malegilla Binka Preethigilla Sunka
Sonta Nindu Donka Nilso Ninna Konka
Haado Sumne Yanka Male Nillo Thanka
Hachchid Banna Ella Malege Karagoythalla
Olagin Anda Ella Eechege Kandbudthalla
Ee Varunana Karuneli
Hennigu Mannigu Gandha Onde Kane
Nunucho Meenu Naanu Minchulli Hakki Neenu
Haayag Eejtha Idde Nin Kannin Galak Bidde
Nan Karunan Karuneli
Saavira Janmada Nantu Nandu Kano
Preethiya Gaaliya Kudiyo Premigalu
Rekkeye Illade Haaro Pakshigalu
Baare Binkammaaaaa Muddaade Yankamma
Baaro Yankayyaaaa Muddado Mankayya
Malegilla Binka Preethigilla Sunka
Sonta Nindu Donka Nilso Ninna Konka
Haado Sumne Yanka Male Nillo Thanka
Rani Maharani Kannada Song Lyrics
Gundige Kal Gundige
Koogo Kolige Kaara Masale
Baare Binkamma
Eddalo Eddalo
Bandalo Bandalo
Comments
comments