January 16, 2018
Eddalo Eddalo Lyrics
Eddalo Eddalo Lyrics: Eddalo Eddalo is a song from the 1990 Kannada movie Rani Maharani, directed by B. Ramamurthy.
The film was produced by Jai Jagadish under the banner Arpitha Arts. Rani Maharani features ensemble cast of Rebel Star Ambareesh, Kanasina Rani Malashri, Shashikumar, Jaggesh, Umashree, Doddanna, Mysore Lokesh, Umesh, Tennis Krishna, MSL Murthy, Bheema Rao, Anjanappa, Shankar Bhat, Chennayya, Shanthamma, Sithara, Prabhavathi, Master Anand, Master Guru, Master Vinay, Master Varadarajan, Master Prakash, Master Kiran Kumar, Baby Rekha, Baby Chithra and others. The film is said to be inspired from Hindi movies, Seeta Aur Geeta (1972) and ChaalBaaz (1989).
Lahari Music was the music label of this movie. This song was composed and written by Hamsalekha. Eddalo Eddalo song was rendered by Manjula Gururaj.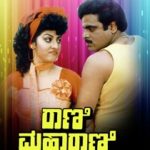 Eddalo Eddalo Lyrics
Movie: Rani Maharani [1990]
Music Label: Lahari Music
Music: Hamsalekha
Lyrics: Hamsalekha
Singer: Manjula Gururaj
Check out the lyrics here..
Jaga Jaga Jaga Jaga Jaga Jaga Jagadamba
Kaali Kaali Kaali Kaali Bhadra Kaali Om
Kaali Kaali Kaali Kaali Chidra Kaali Om
Chandi Chandi Chandi Chandi Chamundi Om
Hogabeku Ranachandi Om
Hreem Yama Yama Bhroom Jama Jama
Bhaba Bham Bhababa Bham
Bhaba Bham Bhababa Bham
Eddalo Eddalo Chanda Maari Eddalo
Eddalo Eddalo Punda Maari Eddalo
Gandu Veshada Raani Pancharangi Padmini
Gandu Veshada Raani Pancharangi Padmini
Aitheriki Itt Mel Avarekaal
Goththamari Naanyaaru Goththamari Naanyaaru
Moothi Myale Itre Davade Holl
Goththamari Naanyaaru Goththamari Naanyaaru
Bandalo Bandalo Bennu Moole Muridalo
Kottalo Kottalo Jaadsi Vade Kottalo
Kandavra Aasthi Kelthiya
Illakka Kelallakka
Masthi Jaasthi Madthiya
Illakka Madallakka
Kooli Thaane Neenilli
Howdakka Sullallakka
Jolly Yaake Nimgilli
Bedalla Yellammakka
Anna Itta Dhani Mane Janti Lekka
Haako Buddi Irabaardu
Ninna Punyadashte Ninna Paapadashte
Anna Yakkuta Maribaardu
Kottalo Kottalo Jaadsi Vade Kottalo
Kottalo Kottalo Baala Vade Kottalo
Gandu Veshada Raani Pancharangi Padmini
Gandu Veshada Raani Pancharangi Padmini
Aitheriki Itt Mel Avarekaal
Goththamari Naanyaaru Goththamari Naanyaaru
Moothi Myale Itre Davade Holl
Goththamari Naanyaaru Goththamari Naanyaaru
Rani Maharani Kannada Song Lyrics
Gundige Kal Gundige
Koogo Kolige Kaara Masale
Baare Binkamma
Eddalo Eddalo
Bandalo Bandalo
Comments
comments