July 3, 2017
Bahaddur Gandu Song Lyrics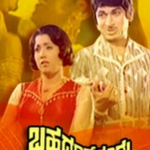 Bahaddur Gandu Song Lyrics: Bahaddur Gandu is a super hit 1976 Kannada film, directed by A. V. Sheshagiri Rao. Bahaddur Gandu features Dr. Rajkumar, Jayanthi, Aarathi, Balakrishna, Vajramuni, Dwarakish and others. This film was was inspired from 1952 Hindi film Aan starring Dilip Kumar. Saregama was the music label of this movie.
Songs of this movie were composed by M. Ranga Rao with lyrics penned by Chi. Udaya Shankar. Bahaddur Gandu [1976] songs were rendered by P. B. Sreenivas, S. Janaki, S. P. Balasubrahmanyam and Dr. Rajkumar.
Check out the lyrics here..
Maanavanaaguveya Lyrics
Album: Bahaddur Gandu [1976]
Music Label: Saregama
Music: M. Ranga Rao
Lyrics: Chi. Udaya Shankar
Singer: Rajkumar
Muthinantha Mathondu Lyrics
Album: Bahaddur Gandu [1976]
Music Label: Saregama
Music: M. Ranga Rao
Lyrics: Chi. Udaya Shankar
Singer: Rajkumar
Hey Ninagagiye Lyrics 
Album: Bahaddur Gandu [1976]
Music Label: Saregama
Music: M. Ranga Rao
Lyrics: Chi. Udaya Shankar
Singer: Rajkumar
Alle Nillu Lyrics
Album: Bahaddur Gandu [1976]
Music Label: Saregama
Music: M. Ranga Rao
Lyrics: Chi. Udaya Shankar
Singers: P. B. Sreenivas, S. Janaki
Gandu Endare Gandu Lyrics
Album: Bahaddur Gandu [1976]
Music Label: Saregama
Music: M. Ranga Rao
Lyrics: Chi. Udaya Shankar
Singer: S. P. Balasubrahmanyam
Save
Comments
comments