October 26, 2017
Balukaado Bangaari Lyrics
Balukaado Bangaari Lyrics: Balukaado Bangaari is a song from the 1988 Kannada movie Krishna Rukmini, directed by H. R. Bhargava and produced by Smt Suvarna Channanna. Krishna Rukmini features Vishnuvardhan, Ramya Krishnan, Devaraj, Mukhyamantri Chandru, Vijayakashi, Mysore LokeshUmashree, Hema Chaudhary, Vanithavasu and others. This song was composed by K. V. Mahadevan with lyrics penned by Doddarange Gowda. Balukaado Bangaari was rendered by S. P. Balasubrahmanyam and Vani Jayaram.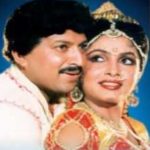 Balukaado Bangaari Lyrics
Movie: Krishna Rukmini [1988]
Music Label: Lahari Music
Music: K. V. Mahadevan
Lyrics: Doddarange Gowda
Singers: S. P. Balasubrahmanyam, Vani Jayaram
Check out the lyrics here..
Balukaado Bangaari Rangaagi Bandaga
Genekara Neenagu Baa
Kulukado Vayyari Shrungara Thandaga
Maithumbi Mathadu Baa
Maththeri Meredadu Baa Kaav Eri Kunidadu Baa
Hoththeri Ondagu Baa Sangathi Sangathi Baa
Sangathi Sangathi Baa
Sangathi Sangathi Baa Sangathi Sangathi Baa
Kudiyo Hareya Nagutha Nagutha Kai Beesi Karediralu
Thudiyo Bayake Olage Horage Nannannnu Kaadiralu
Kudiyo Hareya Nagutha Nagutha Kai Beesi Karediralu
Thudiyo Bayake Olage Horage Nannannnu Kaadiralu
Praya Thumbiruvaga Sangava Seru Chinthe Ninaginneke Madhuva Heeru
Praya Thumbiruvaga Sangava Seru Chinthe Ninaginneke Madhuva Heeru
Endendu Romanchana Nee Needu Baa
Sangathi Sangathi Baa Sangathi Sangathi Baa
Sangathi Sangathi Baa Sangathi Sangathi Baa
Ninneya Marethu Naleya Marethu Ninna Thabbi Nalidiralu
Ottige Kalethu Haththira Berethu Sukhavannu Kandiralu
Ninneya Marethu Naleya Marethu Ninna Thabbi Nalidiralu
Ottige Kalethu Haththira Berethu Sukhavannu Kandiralu
Aase Bisi Iruvaga Sontava Balasu Moha Minigiruvaga Chumbana Kalisu
Aase Bisi Iruvaga Sontava Balasu Moha Minigiruvaga Chumbana Kalisu
Cheluvada Sallapa Nee Kaanu Baa
Sangathi Sangathi Baa Sangathi Sangathi Baa
Sangathi Sangathi Baa Sangathi Sangathi Baa
Sangathi Sangathi Baa Sangathi Sangathi Baa
Sangathi Sangathi Baa Sangathi Sangathi Baa
Krishna Rukmini Songs
Karnatakada Ithihaasadali
Naa Kande Ninna Madura
Balukaado Bangaari
Cheluvina Chilume Chimmidaaga
Naada Lola Sri Krishna
Naadave Nanninda Dooraadeya
Save
Comments
comments