October 26, 2017
Karnatakada Ithihaasadali Lyrics
Karnatakada Ithihaasadali Lyrics: Karnatakada Ithihaasadali is a song from the 1988 Kannada movie Krishna Rukmini, directed by H. R. Bhargava and produced by Smt Suvarna Channanna. Krishna Rukmini features Vishnuvardhan, Ramya Krishnan, Devaraj, Mukhyamantri Chandru, Vijayakashi, Mysore Lokesh, Umashree, Hema Chaudhary, Vanithavasu and others.
Lahari Music is the music label of this movie. This song was composed by legendary music director K. V. Mahadevan with lyrics penned by R. N. Jayagopal. Karnatakada Ithihaasadali was rendered by S. P. Balasubrahmanyam.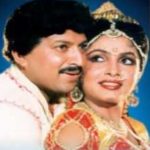 Karnatakada Ithihaasadali Lyrics
Movie: Krishna Rukmini [1988]
Music Label: Lahari Music
Music: K. V. Mahadevan
Lyrics: R. N. Jayagopal
Singer: S. P. Balasubrahmanyam
Check out the lyrics here..
Karnatakada Ithihaasadali Bangarada Yugada Katheyannu
Haaduve Keli Naa Haaduve Keli
Haaduve Keli Naa Haaduve Keli
Karnatakada Ithihaasadali
Gnyanada Jyothiyu Vidyaranyaru Anugruhagaida Bhoomi Idu
Gnyanada Jyothiyu Vidyaranyaru Anugruhagaida Bhoomi Idu
Hakka Bukkaru Haalidarilli Harushada Maleyannu Ellu Chelli
Vijayada Kahaleya oodidaru
Vijayanagara Sthaapane Maadidaru
Karnatakada Ithihaasadali Bangarada Yugada Katheyannu
Haaduve Keli Naa Haaduve Keli
Haaduve Keli Naa Haaduve Keli
Gandara Ganda Veera Prachanda Krishna Devaraya Aalida Vaibhavade
Gandara Ganda Veera Prachanda Krishna Devaraya Aalida Vaibhavade
Kaligala Naadu Kavigala Beedu
Kaligala Naadu Kavigala Beedu
Yenisithu Hampeyu Aa Dinade
Kannada Baavuta Haarisida
Madhure Varegu Raajyava Haradisida
Karnatakada Ithihaasadali
Sangeetha Naatyagala Sangamaville Shilpa Kalegala Thaanavide
Sangeetha Naatyagala Sangamaville Shilpa Kalegala Thaanavide
Bhuvaneshwariya Thavaroorille Yathigala Daasara Nelenaadille
Paavana Mannidu Hampiyadu Yuga Yuga Aliyada Keerthi Idu
Kannada Bhoomi Kannada Nudiyu Kannada Preethi Endendu baalai
Sirigannadam Gelge
Sirigannadam Gelge
Sirigannadam Gelge
Krishna Rukmini Songs
Karnatakada Ithihaasadali
Naa Kande Ninna Madura
Balukaado Bangaari
Cheluvina Chilume Chimmidaaga
Naada Lola Sri Krishna
Naadave Nanninda Dooraadeya
Save
Save
Comments
comments