October 25, 2017
Bandhana Sharapanjaradali Bandhana Lyrics
Bandhana Sharapanjaradali Bandhana Lyrics: Bandhana Sharapanjaradali Bandhana is a song from the 1971 Kannada movie Sharapanjara, directed by Puttanna Kanagal, based on a novel by Triveni of the same name. Sharapanjara features Kalpana, Gangadhar, Leelavathi, K. S. Ashwath, Srinath, Shivaram, Narasimharaju, Advani Lakshmi Devi, Chindodi Leela, M.N Lakshmi Devi, Loknath and others. Saregama is the music label of this movie. This song was composed by Vijaya Bhaskar with lyrics penned by Vijaya Narasimha. This song was rendered by P. Susheela.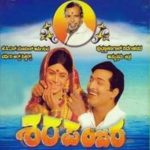 Bandhana Sharapanjaradali Bandhana Lyrics
Movie: Sharapanjara [1971]
Music Label: Saregama
Music: Vijaya Bhaskar
Lyrics: Vijaya Narasimha
Singer: P. Susheela
Check out the lyrics here..
Bandhana Sharapanjaradali Bandhana
Bandhana
Bandhana Sharapanjaradali Bandhana
Bandhana
Swaarthada Sanchina Vanachane Bhaana..
Maathsaryada Vishapooritha Bhaana..
Thaathsaarada Bage Bage Nage Bhaana..
Naana Bhaavada Rudhrabheekara
Sharapanjarada Bhandana
Bandhana Sharapanjaradali Bandhana
Bandhana
Hindendo Ariyade Edavida Thappige
Benkiya Kambada Appuge
Hrudaya Heenatheya Dhaanava Jeevana
Naana Bhaavada Rudhrabheekara
Sharapanjarada Bhandana
Bandhana Sharapanjaradali Bandhana
Bandhana
Marukadha Maathina Maarmika Bandhana
Marulu Maaduva Moha Bandhana
Neecha Samajada Karuneyu Bandhana
Mukthiye Illada Paapada Bandhana
Sharapanjarada Bhandana
Bandhana Sharapanjaradali Bandhana
Bandhana
Bandhana Sharapanjaradali Bandhana
Bandhana
Sharapanjara Songs
Uttara Dhruvadim Dakshina Dhruvaku
Kodagina Kaaveri
Biligiri Rangayya Neene Helayya
Sandesha Megha Sandesha
Hadinaalku Varsha Vanavasadindha
Bandhana Sharapanjaradali Bandhana
Save
Save
Comments
comments