January 19, 2018
Beesadiru Thangaali Thampannu Lyrics
Beesadiru Thangaali Thampannu Lyrics: Beesadiru Thangaali Thampannu is a song from the 1986 Kannada movie Anuraga Aralithu, directed by M.S. Rajashekhar and produced by M S Putta Swamy under the banner Bhargavi Art Movies. This film was based on the Kannada novel Anuragada Anthapura by writer H. G. Radhadevi. Anuraga Aralithu features Dr. Rajkumar, Madhavi, Geetha, Pandari Bai, K. S. Ashwath, Thoogudeepa Srinivas, Kunigal Ramanath and others.
This film was later remade in Tamil as Mannan starring Rajinikanth and Vijayashanti, in Telugu as Gharana Mogudu featuring Chiranjeevi and Nagma, Hindi version Laadla featured Anil Kapoor and Sridevi in the lead roles.
Sangeetha music was the music label of this Kannada movie. This song was composed by Upendra Kumar with lyrics penned by Chi. Udaya Shankar. Beesadiru Thangaali Thampannu song was rendered by Vani Jayaram.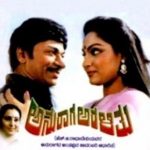 Beesadiru Thangaali Thampannu Lyrics
Movie: Anuraga Aralithu [1986]
Music Label: Sangeetha
Music: Upendra Kumar
Lyrics: Chi. Udaya Shankar
Singer: Vani Jayaram
Check out the lyrics here..
Hmmmm Hmmmm Lalalaa Lalalaa Lalaala Laa
Beesadiru…Thangaali…
Thampannu Chellaadi
Jhummanno Maiyannu
Sokuththa Kaaduththa
Beesadiru…Thangaali…
Thampannu Chellaadi
Jhummanno Maiyannu
Sokuththa Kaaduththa
Beesadiru
Kaadalli Moggondu Arali
Hoovaadarenayithu
Mudiyoru Yaarendu Kaane
Dhoolalli Horalaadithu
Antha Hoovanthe Aade Naanu
Kanneeru Bandaagale
Hosa Aasegala Savi Thorisutha
Hosa Aasegala Savi Thorisutha
Santhosa Thumbuththa
Sokuththa Kaaduththa
Beesadiru…Thangaali…
Thampannu Chellaadi
Jhummanno Maiyannu
Sokuththa Kaaduththa
Beesadiru
Hoovantha Ee Meththe Indu
Mullanthe Yekaayithu
Aa Chandrana Kaanthi Soki
Maiyella Bisiyaayithu
Onti Baalinnu Saaku Saakindu
Naanindu Nondaagale
Chali Thumbuthali Ee Raathriyali
Chali Thumbuthali Ee Raathriyali
Sangaathi Yellendu
Keluththa Kaaduththa
Beesadiru…Thangaali…
Thampannu Chellaadi
Jhummanno Maiyannu
Sokuththa Kaaduththa
Beesadiru
Beesadiru…Thangaali…
Anuraga Aralithu Song Lyrics
Ganga Yamuna Sangama
Nee Nadedare Sogasu
Srikantha Vishakantha
Saarthakavaayithu
Beesadiru Thangaali Thampannu
Comments
comments