March 4, 2018
Danaku Dana Danaku Dana Lyrics
Danaku Dana Danaku Dana Lyrics: Danaku Dana Danaku Dana is a song from the 2011 Kannada Movie Kirathaka [Kiraathaka], directed by Pradeep Raj. Kirathaka features Yash, Oviya, T. S. Nagabharana, Tara, Kashi, Daniel Balaji, Sanketh Kashi, Mysore Chikkanna, Rangatheja, Rahul Raj, Rakesh and others. This film was a remake of the 2010 Tamil film Kalavani, directed by A. Sarkunam in his directorial debut featuring Vimal and Oviya.
Anand Audio was the music label of this movie. This song was composed by V. Manohar with lyrics penned by Pradeep Raj. Danaku Dana Danaku Dana was rendered by Hemanth Kumar and Pradeep Raj.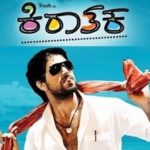 Danaku Dana Danaku Dana Lyrics
Movie: Kiraathaka [2011]
Music Label: Anand Audio
Music: V. Manohar
Lyrics: Pradeep Raj
Singers: Hemanth Kumar, Pradeep Raj
Check out the lyrics here..
Heyy Maathgaara Mallayya Meredaanu Aaha
Budhdhigaara Siddhayya Geddaanu Howdappa
Mojugaara Maathugaara Nam Chathri Chora
Hod Hod Kade Yella Modi Maadyaanu
Danaku Dana Danaku Dana Danaku Dana Naa |4|
Shrirang Patna Ranganathittu
Paandav Pura Kunthi Betta
Yella Kade Namde Darbaaru Darbaaru
Krs-Su Kannambaadi
Chikk Byadarahallli Dodd Byadarahalli
Hodallella Namde Kaarbaaru Hushaaru
Malavalli Maddorallu Hava Madgivni
Balmoori Melkotelu Level Madgivni
Doddarasina Kereyavrige Ago Ishta Aagodivi
Chikkade Akka Pakka Famous Aagodvi
Kangan Maradi Kr Pete
Siddhalingapura Hariharapura
Kyatharahalli Lu Namde Khadarru Sooperru
Thendegere Hemagiri Mandagere
Agrahaara Hulikere Belagola
Mallenahalli Vaddarahalligu Naav Vadeyru
Danaku Dana Danaku Dana Danaku Dana Naa |4|
Paala Halli Pump House Namgade Guest House
All Nadyo Yella Ithyarthanu Bhaari Famous-Su
Mandyage Famoussu
Hudgeera College-U Kannalle Messege-U
Sight Hodithidre Saaku Namge Byada Marriage-U
Samsaara Luggage-U
Ballekere Seelan Kere Gejjalgere
Thoogun Kere Sowkaar Mane
Koli Kadiyuma Baa Annthamma
Lakshmi Saaga Gosaay Ghat-U
Kari Ghatta Yelchaathnhalli
Naale Dande Mele Wave Party Maaduma
Danaku Dana Danaku Dana Danaku Dana Naa |4|
Kuniyodu Thakaththu Kunisodu Nangoththu
Namm Thalakke Thaknhang Kuniyoridre Namde Doulaththu
Dariya Doulaththu
Nam Idea Sakaththu Namge Ade Sampaththu
Boglorna Kandre Thinnisthivi Naayi Biskaththu
Han Yantha Gammaththu
Babayn Kothu Krishnapura Santhebachahalli
Lingapura Nagamangla Chikk Mandya Namdene Jaageeru
Jeegundi Patna Hulivana Hosuru
Arathi Ukaada Chunchaanakatte
Angar Lingan Doddili Naave Sulthaanru
Sargooru Tharanigere Karga Namdeya
Vadeghatta Shaanbognahalli Nyaya Namdeya
Gundapura Govindnhalli Gowdke Namdeya
Yarahalli Ujjaini Panchaaythi Nadeya
Hosahalli Doddi Hoskere Dinka Bindigan Navle
Saathnoor Cheenya Chinkooru Leelu Namge Salaamu Salaamu
Doddmalli Chikkmalli Doddpalya Chikkpalya
Holalu Thennadu Devraay Patna Yella Jangol Kotru Inaamu Inaamu
Danaku Dana Danaku Dana Danaku Dana Naa |4|
Kiraathaka 2011 Songs
Danaku Dana Danaku Dana
Damma Damma Dama Dama
Oore Nidire Kavida Vele
Dubai Thorsu Thorsu Nange
Kendaavare Hoove Kendaavare
Yaaravvi Ee Cheluvi
Comments
comments