July 12, 2018
Doora Doora Lyrics | Andamaan
Doora Doora Lyrics | Andamaan: Doora Doora is a Kannada song from the movie Andamaan, written and directed by P. H. Vishwanath. The film was jointly produced by Padmalatha under the banner Sri Jwalamalini Devi Productions. The film was released in 1998 starring Shivarajkumar, Soni, Sumanth, Vinaya Prasad, Baby Niveditha Shivarajkumar, Datthathreya, Ramesh Pandith, Mallikarjunaiah, Makeup Ramakrishna, Jolly Bastin, Lingaraj, Master Akshay, MSL Murthy and others. Baby Niveditha Shiva Rajkumar won State Film Award for Best Child Actor (Female) for her performance in this film.
Lahari Music was the music label of this movie. This songs was composed and written by Nadha Brahma Hamsalekha. Doora Doora song was sung by reputed singers S. P. Balasubrahmanyam and K. S. Chithra.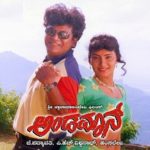 Doora Doora Lyrics
Movie: Andamaan [1998]
Music Label: Lahari Music
Music: Hamsalekha
Lyrics: Hamsalekha
Singers: S. P. Balasubrahmanyam, K. S. Chithra
Check out the lyrics here..
Doora Doora
Doora Doora Eradu Theera Naduve Nenapu
Sarina Vidhiye Ninage Asooye Bantha Konege
Preethili Odaku Tharalu Adenu Khushiyo Ninage
Doora Doora Eradu Theera Naduve Nenapu
Sarina Vidhiye Ninage Asooye Bantha Konege
Baalininda Dooravidda Virasa
Haalu Manadali Thadu Suride
Odeda Haalu Chello Chelle Ninage
Nambikeya Sethuveya Mele
Samshayada Gundu Male Garede
Khalana Nageye Olave Ninage Hageye
Doora Doora Eradu Theera Naduve Nenapu
Sarina Vidhiye Ninage Asooye Bantha Konege
Bhoodi Muchchidantha Kendavaagi
Gode Nungo Manna Geddalaagi
Sulive Kodade Preethiya Maneya Muride
Goodinalli Minugo Deepa Thandu
Gaaligitta Sodaraagi Maadide
Aaro Hanathe Nodo Aaseye Ninage
Doora Doora Eradu Theera Naduve Nenapu
Sarina Vidhiye Ninage Asooye Bantha Konege
Preethili Odaku Tharalu Adenu Khushiyo Ninage
Doora Doora Aa Aa
Andamaan [1998] Songs
Naada Naada Premada Naada
Doora Doora
Andamaan Andamaan
O Magu Nee Nagu
Nenapu Nenapu Sihi
Kaala Meeri Yaake Banthu
Comments
comments