July 12, 2018
Andamaan Andamaan Ninage Vandane Lyrics
Andamaan Andamaan Ninage Vandane Lyrics: Andamaan Andamaan Ninage Vandane is a Kannada song from the movie Andamaan, written and directed by P. H. Vishwanath. The film was jointly produced by Padmalatha under the banner Sri Jwalamalini Devi Productions.
The film was released in 1998 starring Shivarajkumar, Soni, Sumanth, Vinaya Prasad, Baby Niveditha Shivarajkumar, Datthathreya, Ramesh Pandith, Mallikarjunaiah, Makeup Ramakrishna, Jolly Bastin, Lingaraj, Master Akshay, MSL Murthy and others. Baby Niveditha Shiva Rajkumar won State Film Award for Best Child Actor (Female) for her performance in this film.
Lahari Music was the music label of this movie. This songs was composed and written by Nadha Brahma Hamsalekha. Andamaan Andamaan Ninage Vandane song was rendered by well known singer K. S. Chithra and actor Shiva Rajkumar.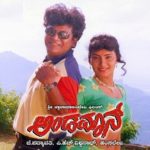 Andamaan Andamaan Lyrics
Movie: Andamaan [1998]
Music Label: Lahari Music
Music: Hamsalekha
Lyrics: Hamsalekha
Singers: Shiva Rajkumar, K. S. Chithra
Check out the lyrics here..
Andamaan Andamaan Oo Oo Oo
Andamaan Andamaan Oo Oo Oo
Daddy My Lovely Daddy
Baby My Lovely Baby
Daddy My Lovely Daddy
Baby My Lovely Baby
Bengloorinda Yen Thande
Preethina Hoththu Bande
Thaththa Nee Iththa
Thago Sihi Muththa
Saaku Innenu Beku Nange
Daddy My Lovely Daddy
Baby My Lovely Baby
Dina Nanna Kanasalli Thappade Nee Barhtidde
Naanu Ninna Hegaleri Haartha Idde Eddare Altha Idde
Hoo Dina Nanna Thatteyalli Ninagu Thuththu Thegedi'dtha Idde
Ninna Bittu Thinnoke Noytha Idde Ee Dina Kaaytha Idde
Andamaan Andamaan Ninage Vandane |2|
Saagaradoore Saavira Theere
Ingada Neere Devara There
Naavu Sero Ninna Ee Nela
Thanthu Nooru Aaneya Bala
Daddy My Lovely Daddy
Baby My Lovely Baby
Ayyo Dina Odthide Innu Ooru Nododide
Naanu Neenu Eega Nadi Kaled Hogona
Yellara Mareth Hogona
Aha Chinthe Yello Haaride Novu Maayave Aagide
Ninna Putta Kaiyyali Sukhava Itta
Devaru Nanage Kotta
Andamaan Andamaan Ninage Vandane |2|
Saagaradoore Saavira Theere
Ingada Neere Devara There
Naavu Sero Ninna Ee Nela
Thanthu Nooru Aaneya Bala
Daddy My Lovely Daddy
Baby My Lovely Baby
Bengloorinda Yen Thande
Preethina Hoththu Bande
Thaththa Nee Iththa
Thago Sihi Muththa
Saaku Innenu Beku Nange
Daddy My Lovely Daddy
Baby My Lovely Baby
Andamaan Andamaan Oo Oo Oo
Andamaan Andamaan Oo Oo Oo
Andamaan [1998] Songs
Naada Naada Premada Naada
Doora Doora
Andamaan Andamaan
O Magu Nee Nagu
Nenapu Nenapu Sihi
Kaala Meeri Yaake Banthu
Comments
comments