August 5, 2018
Doora Doora Lyrics | Baddi Magan Lifu
Doora Doora Lyrics | Baddi Magan Lifu: Doora Doora Neeniddaru Saniha is a song from an upcoming 2018 Kannada movie Baddi Magan Lifu, directed by Pavan-Prasad [Prasad Kumar, Pavan Kumar] duo. The film was produced by Pavan Kumar under the banner Green Chillies Entertainment. Baddi Magan Lifu features Bala Rajwadi, Sachin Sreedhar, Aishwarya Rao, Poornachandra Thejaswi, Vanitha Mandya, Padmanabh, Mime Ramesh and others.
Haadio is the music label of this movie. This song was composed by Ashic Arun with lyrics penned by Kiran Kaverappa. Doora Doora Neeniddaru Saniha song was rendered by one of the most happening singer in Kannada film industry Vijay Prakash.
The lyricist of this song Kiran Kaverappa is writing lot of songs in recent past. some of his hit songs are Neenire Saniha from Kirik Party, Mental Ho Jawa from Tagaru, Amma from Edakallu Guddada Mele 2018, Rangeride from Vaasu Naan Pakka Commercial, Nee Nadeda Daariyali from Ayana, VTU We Really Love You from Gultoom and upcoming moive Katheyondu Shuruvagide has songs from Kiran.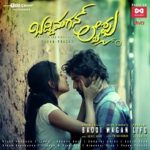 Doora Doora Lyrics
Movie: Baddi Magan Lifu
Music Label: Haadio
Music: Ashic Arun
Lyrics: Kiran Kaverappa
Singer: Vijay Prakash
Check out the lyrics here..
Neenillada Nannedeya Beedili
Kaadiruve Naa Kaaidirisi Samayaana
Eduriddaru Indeko Nee Doora
Asahayaka Dhaniyanthaagiruve Naa
Hagalirulina Parivilla
Hudukide Naane Nanna
Nee Saagiro Daarili Usire Usire
Chooraagiro Ee Nanna
Manasina Haaleyanna Nee Jodisi Odammi Usire
Doora Doora Neeniddaru Saniha
Viraha Aavarisi Asu Neegide Hrudaya
Doora Doora Neeniddaru Saniha
Kaado Nenapeko Ee Shokada Pralaya
Helade Ulida Maathu Mounadi Marugi
Sothide Kanna Kavithe
Summane Jinugi
Aasareyaadeya Omme Nee Ee Jeevake
Ekaanthada Ee Sanjeli..
Ningaagiye Kaayuve Endendigu
Kele Nee Vedane Ommele
Doora Doora Neeniddaru Saniha
Viraha Aavarisi Asu Neegide Hrudaya
Doora Doora Neeniddaru Saniha
Kaado Nenapeko Ee Shokada Pralaya
Doora Doora Nee Saagiruvaaga
Daari Thiruveko Nenapaagide Eega
Comments
comments