March 29, 2018
Eradu Manada Maathe Song Lyrics
Eradu Manada Maathe Song Lyrics: Eradu Manada Maathe is a song from the 1994 Kannada film Samrat, written and directed by Naganna in directorial debut. The film was produced by M. Rajashekar under the banner Sri Gayathri Matha Pictures. The film features Saahasa Simha Dr. Vishnuvardhan, Sowmya Kulkarni, Vinaya Prasad, Sudheer, Vajramuni, Ramesh Bhat, Sarigama Viji, Avinash, Lohithashwa, Shanthamma, Rockline Venkatesh, Mandeep Roy, Deepak Shettinavar, Manu and others.
Lahari Music is the music label of this movie. This song was composed and written by legendary Hamsalekha. Eradu Manada Maathe Song was rendered by great singers S. P. Balasubrahmanyam and K. S. Chithra.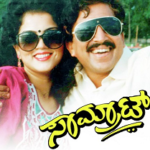 Eradu Manada Maathe Lyrics
Movie: Samrat [1994]
Music Label: Lahari Music
Music: Hamsalekha
Lyrics: Hamsalekha
Singers: S. P. Balasubrahmanyam, K. S. Chithra
Check out the lyrics here..
Eradu Manada Maathe Ondu Yugala Geethe
Adara Prema Raaga Madhuramaya
Kusuma Maya Bhramara Maya
Dhiranana Dhiranana Hrudayada Thaala
Eradu Manada Maathe Ondu Yugala Geethe
Adara Prema Raaga Madhuramaya
Kusuma Maya Bhramara Maya
Dhiranana Dhiranana Hrudayada Thaala
Eradu Manada Maathe Ondu Yugala Geethe
Adara Prema Raaga Madhuramaya
Ee Prema Thaana Ee Mouna Gaana
Onde Balliya Hoogalu
Ee Prema Dhyana Soundarya Snaana
Beku Ee Baalu Saagalu
Aa Kamalagalu Ee Kannugalu
Aa Balligalu Ee Tholugalu
Balliyaagi Naanu Ninna Balasalenu Bega
Hoogalaagi Naanu Ninna Ramisalenu Eega
Eradu Manada Maathe Ondu Yugala Geethe
Adara Prema Raaga Madhuramaya
Kusuma Maya Bhramara Maya
Dhiranana Dhiranana Hrudayada Thaala
Eradu Manada Maathe Ondu Yugala Geethe
Adara Prema Raaga Madhuramaya
Mandaara Naanu Shreekaara Neenu
Nanna Premada Gudige
Shrungaara Neenu Sindhoora Naanu
Namma Jeevana Poojege
Aa Hombisilu Nee Sokidare
Aa Thambelaku Nee Haadidare
Sooryanaagi Naanu Ninna
Cheluva Urisalaare
Chandranaagi Doora Hogi
Viraha Sahisalaare
Eradu Manada Maathe Ondu Yugala Geethe
Adara Prema Raaga Madhuramaya
Kusuma Maya Bhramara Maya
Dhiranana Dhiranana Hrudayada Thaala
Eradu Manada Maathe Ondu Yugala Geethe
Adara Prema Raaga Madhuramaya
Samrat Kannada Movie Songs
Nimkade Sambar Andre
Eradu Manada Maathe
Nesara Banda Nanna Nesara
Nange Duddandre Lekka Illa
Jeevanave Hudukaata
Comments
comments