March 29, 2018
Jeevanave Hudukaata Song Lyrics
Jeevanave Hudukaata Song Lyrics: Jeevanave Hudukaata is a song from the 1994 Kannada film Samrat, written and directed by Naganna in directorial debut. The film was produced by M. Rajashekar under the banner Sri Gayathri Matha Pictures. The film features Saahasa Simha Dr. Vishnuvardhan, Sowmya Kulkarni, Vinaya Prasad, Sudheer, Vajramuni, Ramesh Bhat, Sarigama Viji, Avinash, Lohithashwa, Shanthamma, Rockline Venkatesh, Mandeep Roy, Deepak Shettinavar, Manu and others.
This is the first film directed by B. Naganna. He is the son of producer R. Lakshman. Some of the notable works under his directions are Samrat, O Premave, Kotigobba, Vishnu Sena, Krantiveera Sangolli Rayanna etc.. He frequently collobrated with actor Vishnuvardhan
Lahari Music is the music label of this movie. This song was composed and written by legendary Hamsalekha. Jeevanave Hudukaata Song was rendered by legendary S. P. Balasubrahmanyam.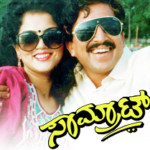 Jeevanave Hudukaata Lyrics
Movie: Samrat [1994]
Music Label: Lahari Music
Music: Hamsalekha
Lyrics: Hamsalekha
Singer: S. P. Balasubrahmanyam
Check out the lyrics here..
Naanyaaru Naanenu Naanilli Iruva Guri Yenu
Naanyaaru Naanenu Naanilli Iruva Guri Yenu
Jeevanave Hudukaata Hudukuvude Horaata
Jeevanave Hudukaata Hudukuvude Horaata
Nija Bagedu Thegedavane Saamaraata
Saamaraata Saamaraata
Naanyaaru Naanenu Naanilli Iruva Guri Yenu
Naanilli Iruva Guri Yenu
Kandiruvevu Thaayiya Madila
Nambiruvevu Devara Nerala
Nechchiruvevu Sathyada Thirula
Anumaana Illa Idarolage
Hondiruvevu Snehada Balava
Undiruvevu Preethiya Sukhava
Mechchiruvevu Dhairyada Gunava
Anumaana Illa Idarolage
Idalladde Inneno Guri Ide Namage
Adillade Apoorna Yeniside Yedege
Jeevanave Hudukaata Hudukuvude Horaata
Jeevanave Hudukaata Hudukuvude Horaata
Nija Bagedu Thegedavane Saamaraata
Saamaraata Saamaraata
Naanyaaru Naanenu Naanilli Iruva Guri Yenu
Naanilli Iruva Guri Yenu
Yelelu Yeddelu Sidilanthe Sididelu
Sathyakke Saavagide
Ee Yuddha Sanyaasa Saakinnu Hidi Khadga
Nyayaane Alutha Ide
Ee Januma Mundilla Maru Januma Thilidilla
Pooraisu Ninna Dharmava
Anyaaya Aledaado Maddane Aadaaga
Kaapaadu Nija Dharmava
Samyama Mugidare Samarave Anthima
Durjanara Sigidu Kouravara Bagedu
Nija Agedu Thegedu Jaya Dhwajava Hididavane
Saamaraata Saamaraata Saamaraata
Samrat Kannada Movie Songs
Nimkade Sambar Andre
Eradu Manada Maathe
Nesara Banda Nanna Nesara
Nange Duddandre Lekka Illa
Jeevanave Hudukaata
Comments
comments