August 6, 2018
Gandandre Gandu Songs Lyrics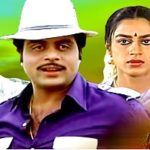 Gandandre Gandu Songs Lyrics: Gandandre Gandu is a 1988 kannada movie, directed by V. Somashekar and produced by H N Maruthi. Gandandre Gandu features Ambarish, Nalini, Jai Jagadish, Thoogudeepa Srinivas, Dinesh, Shakthi Prasad, Musuri Krishnamurthy, Brahmavar, Mandeep Roy and others.
Sangeetha was the music label for this movie. All Songs of the movie were composed by G. K. Venkatesh with lyrics penned by R. N. Jayagopal and Chi. Udaya Shankar. Songs were rendered by S. P. Balasubramanyam, Susheela, Sulochana, Rajkumar Bharathi and Vani Jayaram.
V. Somashekhar was a noted director in Kannada cini industry. He was a screen writer and producer as well. He was born in Bangalore on 27 July 1937. He started in cinema career as a clapperboard operator, dubbing artist and then as a assistant director. His made his directorial debut with 1974 Kannada movie Bangaarada Panjara starring Rajkumar.
He worked with all the leading stars of Kannada cinema including Rajkumar, Vishnuvardhan, Shankar Nag, Ambarish, Shiva Rajkumar and others. some of his notable movies are Bangaarada Panjara, Premada Kanike, Shankar Guru, Thayige Thakka Maga, Seetharamu, Parashuram, Chakravyuha, Premigala Saval, Mrugaalaya, Ranaranga, Prathap and others.
Check out the lyrics here..
Ba Ba Ba Hejje Haaku Lyrics
Movie: Gandandre Gandu [1988]
Music Label: Sangeetha
Music: G. K. Venkatesh
Lyrics: R. N. Jayagopal
Singers: S. P. Balasubrahmanyam, Vani Jayaram
Ee Premada Hosa Saamraajyadi Lyrics
Movie: Gandandre Gandu [1988]
Music Label: Sangeetha
Music: G. K. Venkatesh
Lyrics: R. N. Jayagopal
Singers: S. P. Balasubrahmanyam, Vani Jayaram
Anna Thammore Lyrics
Movie: Gandandre Gandu [1988]
Music Label: Sangeetha
Music: G. K. Venkatesh
Lyrics: R. N. Jayagopal
Singers: P. Susheela, Sulochana, Rajkumar Bharathi
Manjina Hanigalu Lyrics
Movie: Gandandre Gandu [1988]
Music Label: Sangeetha
Music: G. K. Venkatesh
Lyrics: R. N. Jayagopal
Singer: P. Susheela
Naane Raaja Neene Raani Lyrics
Movie: Gandandre Gandu [1988]
Music Label: Sangeetha
Music: G. K. Venkatesh
Lyrics: Chi. Udaya Shankar
Singers: S. P. Balasubrahmanyam
Comments
comments