February 26, 2018
Hey Hudugi Oye Bedagi Lyrics
Hey Hudugi Oye Bedagi Lyrics: Hey Hudugi Oye Bedagi is a song from 1971 Kannada movie Kula Gowrava or Kula Gourava, derected by Peketi Sivaram and written by G. Balasubramanyam. Kula Gowrava features Dr. Rajkumar in triple role, Jayanthi, Bharathi, Narasimharaju, Balakrishna, M.N Lakshmi Devi, Mahadevappa, Sampath Kumar, R. Nagendra Rao, Ramamurthy, Master Ravichandran and Others.
The film was remade in Telugu as Kula Gouravam in 1972 and starred N. T. Rama Rao with Jayanthi and also in Tamil. Saregama was the music label of this movie.
This Song was composed by T. G. Lingappa with lyrics penned by Chi. Udaya Shankar. Hey Hudugi Oye Bedagi Song was rendered by P. B. Sreenivas, P. Susheela.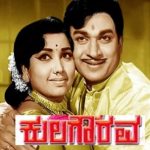 Hey Hudugi Oye Bedagi Lyrics
Movie: Kula Gowrava [1971]
Music Label: Saregama
Music: T. G. Lingappa
Lyrics: Chi. Udaya Shankar
Singer: P. B. Sreenivas, P. Susheela
Check Out The Lyrics Here…
Hey Hudugi Oye Bedagi
Nille Nille Alle Nille
Naanu Baruve Jotheyalle
Baa Maguve Naa Illiruve
Putta Putta Hejje Haaki
Appa Baruva Ninna Huduki
Hey Hudugi
Baa Maguve
Meenina Kanna Baleyali Nanna
Sereyanu Haaki Oduveyaa
Meenina Kanna Baleyali Nanna
Sereyanu Haaki Oduveyaa
Olavina Maathu Mai Maresiralu
Thutigala Kadege Baaguveya
Olavina Maathu Mai Maresiralu
Thutigala Kadege Baaguveya
Ee Sogasu Ee Vayasu
Saaku Saaku Maharaaya
Hey Hudugi
Baa Maguve
Ee Kannotake Ee Thuntaatake
Odeyithu Hrudaya Tappendu
Ee Kannotake Ee Thuntaatake
Odeyithu Hrudaya Tappendu
Hrudayada Nipuna Vaidyara
Jaana Koduvanu Baare Hosadondu
Hrudayada Nipuna Vaidyara
Jaana Koduvanu Baare Hosadondu
Baa Hudugi Bidu Huduga
Onde Ondu Sihi Muththu
Alle Nodu Aapaththu
Hey Hudugi
Baa Maguve
Nille Nille Alle Nille
Naanu Baruve Jotheyalle
Hooya Lallalaa
Aaay Lallalaa
Kula Gowrava [1971] Songs:
Naa Haadabeke Nee Kelabeke
Naavikanaaro Nadesuvanello
Ondu Maathu Ondu Maathu
Raaga Ninnadu Bhaava Nannadu
Yaare Bandavanu Yaare Bandavanu
Hey Hudugi Oye Bedagi
Comments
comments