February 26, 2018
Yaare Bandavanu Yaare Bandavanu Lyrics
Yaare Bandavanu Yaare Bandavanu Lyrics: Yaare Bandavanu Yaare Bandavanu is a song from 1971 Kannada movie Kula Gowrava or Kula Gourava, derected by Peketi Sivaram and written by G. Balasubramanyam. Kula Gowrava features Dr. Rajkumar in triple role, Jayanthi, Bharathi, Narasimharaju, Balakrishna, M.N Lakshmi Devi, Mahadevappa, Sampath Kumar, R. Nagendra Rao, Ramamurthy, Master Ravichandran and Others.
The film was remade in Telugu as Kula Gouravam in 1972 and starred N. T. Rama Rao with Jayanthi and also in Tamil. Saregama was the music label of this movie.
This Song was composed by T. G. Lingappa with lyrics penned by R. N. Jayagopal. Yaare Bandavanu Yaare Bandavanu Song was rendered by P. Susheela.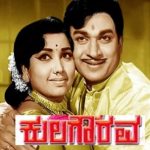 Yaare Bandavanu Yaare Bandavanu Lyrics
Movie: Kula Gowrava [1971]
Music Label: Saregama
Music: T. G. Lingappa
Lyrics: R. N. Jayagopal
Singer: P. Susheela
Check Out The Lyrics Here…
Yaare Bandavanu Yaare Bandavanu
Yekaanthadalliruva Ee Henna Kaanalu
Yaare Bandavanu
Kendaavareya Holuva Kangalu
Kendaavareya Holuva Ee Kangalu
Bale Dumbigala Saalanthe Mungurulu |2|
Haaraadi Olaadi Haaraadi Olaadi
Nalidu Kunidu Manava Seleye
Nannali Kaanada Aaseya Thumbutha Kaadalu
Yaare Bandavanu
Kannale Kareva Nodutha Naguva
Kannale Kareva Nodutha Naguva
Hennina Manava Aralisuthiruva |2|
Kolalina Gaanadi Dere Hididiruva
Krishnaaa Krishnaaa Krishnaaa Aa Aa Aa
Kolalina Gaanadi Dere Hididiruva
Sakhi Hele Manadanna
Sakhi Hele Manadanna Shri Krishna Ne Thaane
Yaare Bandavanu
Yekaanthadalliruva Ee Henna Kaanalu
Yaare Bandavanu
Kula Gowrava [1971] Songs:
Naa Haadabeke Nee Kelabeke
Naavikanaaro Nadesuvanello
Ondu Maathu Ondu Maathu
Raaga Ninnadu Bhaava Nannadu
Yaare Bandavanu Yaare Bandavanu
Hey Hudugi Oye Bedagi
Comments
comments