October 10, 2017
Hindusthanavu Endu Mareyada Lyrics | Amrutha Ghalige
Hindusthanavu Endu Mareyada Lyrics | Amrutha Ghalige: Hindusthanavu Endu is a song from the 1984 Kannada language film Amrutha Ghalige, directed by Puttanna Kanagal, based on a novel named Avadhana by Dodderi Venkatagiri Rao. The film was produced by S. R. Rajan, Bheema Rao, K. Nagarathna, and Puttanna Kanagal under the banner Jayabheri Films.
Kannada writer Dodderi Venkatagiri Rao has written many books and novels. some of his most notable works includes Avadaana, Dristidana, Sampradaana, Ishtakaamya, Anshumaalaa , Sharadindumaalaa, Ratniya Magalu, Nalmeya Nele, and others.
Amrutha Ghalige features Ramakrishna, Padmavasanthi, Sridhar, Umashree, B. K. Shankar, Master Pramod, N R Nadig, Venkataram, L Nagaraj, Janakiram, Aaynar Sridhar, Chandrahas, Shivana Gowda, Nanjundaiah, T K Jorge, Malur Siddappa, Nagaraj, Sundresh, Kalpanarani, Jyothi, Theresamma, Sundramma, Chayadevi, Geetha, Vijaya, Sujatha, Shashikala and others.
Hindusthanavu Endu Mareyada song lyrics were written by noted Kannada lyricist Vijaya Narasimha and the song was composed by music director Vijaya Bhaskar. This song was beautifully rendered by famous playback singer P. Jayachandran.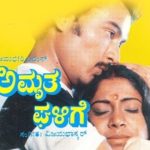 Hindusthanavu Endu Mareyada Lyrics

Movie: Amrutha Ghalige [1984]
Music Label: Sangeetha
Music: Vijaya Bhaskar
Lyrics: Vijaya Narasimha
Singer: P. Jayachandran
Check out 'Hindusthanavu Endu Mareyada Song Lyrics ' here..
Lalalala Lalalala Hmhmhm Mmmm
Hindusthanavu Endu Mareyada
Bharatha Rathnavu Janmisali
Hindusthanavu Endu Mareyada
Bharatha Rathnavu Janmisali
E Kannada Maatheya Madilalli
E Kannada Nudiya Gudiyalli
Hindustanavu Endu Mareyada
Bharatha Ratnavu Janmisali
Desha Bhakthiya Bisi Bisi Nettharu
Dhamani Dhamaniyali Thumbirali
Desha Bhakthiya Bisi Bisi Nettharu
Dhamani Dhamaniyali Thumbirali
Vishwa Premada Shanthi Manthrada
Ghoshava Ellede Molagisali
Sakala Dhrarmada Sathwa Samanwaya
Thathwa Jyothiya Belagisali
Hindustanavu Enduu Mareyada
Bharatha Rathnavu Janmisali
Kannada Thaayiya Komala Hrudayada
Bhavya Shaasana Bareyisali
Kannada Thaayiya Komala Hrudayada
Bhavya Shaasana Bareyisali
Kannada Nadina Ede Edeyallu
Kannada Vaaniya Sthapisali
E Mannina Punyada Divya Charithreya
Kallu Kallinalu Ketthisali
Hindusthanu Endu Mareyada
Bharatha Rathnavu Janmisali
E Kannada Maatheya Madilalli
E Kannada Nudiya Gudiyalli
Hindusthanu Endu Mareyada
Bharatha Rathnavu Janmisali
Lalala Lala La Lalala
Amrutha Ghalige [1984] Kannada Movie Songs List
Hindustanavu Endu Mareyada
Lyrics: Vijaya Narasimha
Vocals: P. Jayachandran
Hindustanavu Endu Mareyada [Female]
Lyrics: Vijaya Narasimha
Vocals: B. R. Chaya
Mayuri Natya Mayuri
Lyrics: Vijaya Narasimha
Vocals: S. P. Balasubrahmanyam, B. R. Chaya
Parvathi Parashivana
Lyrics: Vijaya Narasimha
Vocals: S. P. Balasubrahmanyam, B. R. Chaya
Save
Comments
comments