October 10, 2017
Parvathi Parashivana Lyrics | Amrutha Ghalige
Parvathi Parashivana Lyrics | Amrutha Ghalige: Parvathi Parashivana is a song from the 1984 Kannada language film Amrutha Ghalige, directed by Puttanna Kanagal, based on a novel named Avadhana by Dodderi Venkatagiri Rao.
This song was composed by Vijaya Bhaskar with lyrics written by Vijaya Narasimha. Parvathi Parashivana was rendered by S. P. Balasubramanyam and B. R. Chaya.
Amrutha Ghalige features Ramakrishna, Padmavasanthi, Sridhar, Umashree, B. K. Shankar, Master Pramod, N R Nadig, Venkataram, L Nagaraj, Janakiram, Aaynar Sridhar, Chandrahas, Shivana Gowda, Nanjundaiah, T K Jorge, Malur Siddappa, Nagaraj, Sundresh, Kalpanarani, Jyothi, Theresamma, Sundramma, Chayadevi, Geetha, Vijaya, Sujatha, Shashikala and others.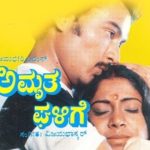 Parvathi Parashivana Lyrics
Movie: Amrutha Ghalige [1984]
Music Label: Sangeetha
Music: Vijaya Bhaskar
Lyrics: Vijaya Narasimha
Singers: S. P. Balasubramanyam, B. R. Chaya
Check 'Parvathi Parashivana Song Lyrics' here..
Parvathi Parashivana Pranaya Prasanga
Shrungara Dhaareya Naatya Ranga
Parvathi Parashivana Pranaya Prasanga
Shrungara Dhaareya Naatya Ranga
Kaamanu Hoodida Hoo Baana
Paravashavaayithu Shivana Mana
Kaamanu Hoodida Hoo Baana
Paravashavaayithu Shivana Mana
Manohari Maheshwari
Neene Yenna Hrudayeshwari
Endanu Aa Jatadhaari
Endanu Aa Jatadhaari
Parvathi Parashivana Pranaya Prasanga
Shrungara Dhaareya Naatya Ranga
Naatyavaadithu Angaanga
Bayasithu Manavu Shivana Sanga
Naatyavaadithu Angaanga
Bayasithu Manavu Shivana Sanga
Manohara Maheshwara
Neene Yenna Hrudayeshwara
Endalu Aa Rajeshwari
Endalu Aa Rajeshwari
Parvathi Parashivana Pranaya Prasanga
Shrungara Dhaareya Naatya Ranga
Parvathi Spandana Parashiva Narthana
Parashiva Sannidhi Parvathi Chethana
Parvathi Spandana Parashiva Narthana
Parashiva Sannidhi Parvathi Chethana
Raagnandada Yoga Vaibhava
Lokavella Paramananda
Premave Sadananda
Premave Sadananda
Parvathi Parashivana Pranaya Prasanga
Shrungara Dhaareya Naatya Ranga
Parvathi Parashivana Pranaya Prasanga
Shrungara Dhaareya Naatya Ranga
Amrutha Ghalige [1984] Kannada Movie Songs List
Hindustanavu Endu Mareyada
Lyrics: Vijaya Narasimha
Vocals: P. Jayachandran
Hindustanavu Endu Mareyada [Female]
Lyrics: Vijaya Narasimha
Vocals: B. R. Chaya
Mayuri Natya Mayuri
Lyrics: Vijaya Narasimha
Vocals: S. P. Balasubrahmanyam, B. R. Chaya
Parvathi Parashivana
Lyrics: Vijaya Narasimha
Vocals: S. P. Balasubrahmanyam, B. R. Chaya
Save
Comments
comments