January 8, 2018
Hodallella Lyrics
Hodallella Lyrics: Hodallella is a song from an upcoming 2018 Kannada movie Seizer, written, directed and produced by Vinay Krishna under the banner Sree Kadari Lakshmi Narasimha Swamy Productions. Seizer features Ravichandran, Chiranjeevi Sarja, Parul Yadav, Prakash Raj, P. Ravi Shankar, Ramesh Bhat, Avinash Divakar and others. Aanand Audio is the music label of this movie.
This song was composed by Chandan Shetty with lyrics penned by Lokesh Krishna. Hodallella was rendered by Chandan Shetty.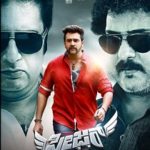 Hodallella Lyrics
Album: Seizer [2018]
Music Label: Aanand Audio
Music: Chandan Shetty
Lyrics: Lokesh Krishna
Singer: Chandan Shetty
Check out the lyrics here..
Hodallella.. Hodallella..
Nee Hinde Bandanthe
Neene Bandu.. Kanmunde Ninthanthe
Hodallella Nee Hinde Bandanthe
Neene Bandu Kanmunde Ninthanthe
Hrudayada Maathu Thutiyali Avithu
Nudidide Nodu Pisu Maathu
Saavira Kanasu Ninnane Kurithu
Mellane Needide Rujuvaathu
Oho Ohooo Oho Hooo Ooo |2|
Nannnanaanaa Nannna Naanaa |2|
Yugadavavana Yavavannasanna
Yugadavavana Yavavannasanna
Yuvadavaavasa Saneva Yugadav Vaavanesa
Yuvadavaavasa Yaavavaava
Gaali Kiviyali Helide
Neenu Baruva Sihi Vaartheya
Hrudayadi Nee Nadeside
Olava Kanasina Jaathreya
Kondu Konde Hego Naa Nooraaru Kanasanna
Artha Maadikondu Naanu Ninna Manasanna
Olave Olave
You Are In My Heart Beat
Feel My Love Olave
Nannalli Innu Ninage
Oho Ohooo Oho Hooo Ooo |2|
Yugadavavana Yavavannasanna
Yugadavavana Yavavannasanna
Yuvadavaavasa Saneva Yugadav Vaavanesa
Yuvadavaavasa Yaavavaava
Seizer Songs Lyrics
Unilmited
Modalaa Baari
One N Only Evaa Yekangi
Hodallella
Pakka Local Seizer
Comments
comments