April 4, 2018
Hoova Roja Hoova Song Lyrics
Hoova Roja Hoova Song Lyrics: Hoova Roja Hoova is a super hit song from the 1997 Kannada film Kalavida, written, directed and produced by V. Ravichandran under his home banner Sri Eshwari Productions. Kalavida features V. Ravichandran, Roja, Heera Rajagopal, Raghuvaran, Dolly Minhas, Umashree, Vaishali Kasaravalli, Ramesh Bhat, Shobhraj, Guru Dattand, B V Radha, Anjali, Shivaram, Lohithashwa and others. Jhankar Music holds the audio rights of this movie. This song was written and composed by Hamsalekha. Hoova Roja Hoova song was rendered by Singer Mano.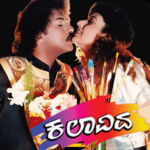 Hoova Roja Hoova Lyrics
Movie: Kalavida [1997]
Music Label: Jhankar Music
Music: Hamsalekha
Lyrics: Hamsalekha
Singer: Mano
Check out the lyrics here..
Hoova Roja Hoova
Hoova Roja Hoova
Hoova Nanna Jeeva
Hoova Mallige Hoova
Hoova Nanna Jeevaa
Bhoomige Hoove Singaraa
Bhoomili Preetige Hennu Taane Singara
Hoova Roja Hoova
Hoova Nanna Jeeva
Hoova Mallige Hoova
Hoova Nanna Jeevaa
Kannalli Suryakanthi
Tutiyalli Chengulabi
Myella Kendasampi
Maathella Malle Jaaji
Naguvella Dundu Malli
Manasella Raathri Rani
Hoovige Jenu Taane Jeeva
Preetige Naanu Taane Jeeva
Bhoomige Hoove Singaraa
Bhoomili Preetige Hennu Taane Singara
Hoova Roja Hoova
Hoova Nanna Jeeva
Hoova Mallige Hoova
Hoova Nanna Jeevaa
Irulalli Mogava Muchchi
Hagalella Mogava Bichchi
Nalidaavo Yella Hoova
Manasalli Preethi Muchchi
Mogadalli Binka Bichchi
Nulidaalo Nanna Hoova
Hoovige Banna Taane Anda
Hennige Jambha Taane Chanda
Bhoomige Hoove Singaraa
Bhoomili Preetige Hennu Taane Singara
Hoova Roja Hoova
Hoova Nanna Jeeva
Hoova Mallige Hoova
Hoova Nanna Jeevaa
Bhoomige Hoove Singaraa
Bhoomili Preetige Hennu Taane Singara
Hoova Roja Hoova
Hoova Nanna Jeeva
Hoova Mallige Hoova
Hoova Nanna Jeevaa
Kalavida Songs Lyrics
Saavirake Obba Kalavida
Hey Navile
Andagara Alimayya
Prema Prema
Hoova Roja Hoova
Iniya Iniya
Ondu Bechhane
Comments
comments