April 4, 2018
Ondu Bechhane Song Lyrics
Ondu Bechhane Song Lyrics: Ondu Bechhane is a song from the 1997 Kannada film Kalavida, written, directed and produced by V. Ravichandran under his home banner Sri Eshwari Productions. Kalavida features V. Ravichandran, Roja, Heera Rajagopal, Raghuvaran, Dolly Minhas, Umashree, Vaishali Kasaravalli, Ramesh Bhat, Shobhraj, Guru Dattand, B V Radha, Anjali, Shivaram, Lohithashwa and others. Jhankar Music holds the audio rights of this movie. This song was written and composed by Hamsalekha. Ondu Bechhane song was rendered by Singer Mano.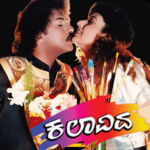 Ondu Bechhane Lyrics
Movie: Kalavida [1997]
Music Label: Jhankar Music
Music: Hamsalekha
Lyrics: Hamsalekha
Singer: Mano
Check out the lyrics here..
Ondu Becchane Goodiralu
Ondu Bechchane Gudiralu
Vechchkkishtu Honniralu
Ondu Bechchane Gudiralu
Vechchkkishtu Honniralu
Ichche Ariva Sati Iralu
Nechchida Kale Olidiralu
Swargalokada Chinte Yaakelayya
Premaloka Ondene Saakelayya
Ondu Bechchane Gudiralu
Vechchkkishtu Honniralu
Ichche Arive Sati Iralu
Nechchida Kale Olidiralu
Swargalokada Chinte Yaakelayya
Premaloka Ondene Saakelayya
Sundara Ee Loka Neeviralu
Sundara Ee Haadu Neeviralu
Sundara Ee Preeti Neeviralu
Sundara Ee Kanasu Neeviralu
Nanna Nimma Jeeva Bhaava Onde
Manase Maneyamma Manasante Maatamma
Ninni Manasalli Naanirale Helamma
Ondu Bechchane Gudiralu
Vechchkkishtu Honniralu
Ichche Ariva Sati Iralu
Nechchida Kale Olidiralu
Swargalokada Chinte Yaakelamma
Premaloka Ondene Saakelamma
Ondu Bechchane Gudiralu
Vechchkkishtu Honniralu
Ichche Ariva Sati Iralu
Nechchida Kale Olidiralu
Yariharo Naguva Hoogalali
Yakihudo Mouna Bettadali
Enadara Haadu Hakkiyali
Hegide Ee Sogasu Srushtiyali
Enu Helabeko Kaane Jaane
Srushti Bennalli Adu Yaro Iharilli
Nanna Ninnalli Adu Eno Ide Illi
Ondu Bechchane Gudiralu
Vechchkkishtu Honniralu
Ichche Ariva Sati Iralu
Nechchida Kale Olidiralu
Kalavida Songs Lyrics
Saavirake Obba Kalavida
Hey Navile
Andagara Alimayya
Prema Prema
Hoova Roja Hoova
Iniya Iniya
Ondu Bechhane
Comments
comments