July 2, 2018
Hrudaya Sangama Songs Lyrics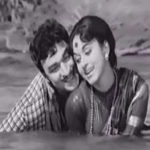 Hrudaya Sangama Songs Lyrics: Gandhada Nerigyole is a song from the 1972 Kannada movie Hrudaya Sangama, directed by Rashi Brothers and written by H. N. Muddukrishna. The film was produced by Muddukrishna H N, Jayasimha H N, Maruthi H N under the banner MJM Productions. Hrudaya Sangama features Rajkumar, Bharathi, Balakrishna, K. S. Ashwath, Loknath, Pandari Bai, Jayaram, Sampath, Shivaram, Ganapathi Bhat, Shakti Prasad, Comedian Guggu, Mahadevappa, C. H. Lokanath, H. G. Somashekar, Dr Sridhar, Thipatur Siddaramaiah, and others.
Saregama is the music label of this movie. This song was composed by Vijaya Bhaskar with lyrics penned by Geethapriya, R. N. Jayagopal, Vijaya Narasimha and Chi. Udayashankar. Songs of this album were rendered by noted playback singers S. Janaki, P. B. Sreenivas, L. R. Eswari, Mahesh and Anjali.
The directors of this movie Rashi Brothers are noted actor S. Shivaram and his elder brother S. Ramanathan. Together they produced lot of films in different languages. S. Ramanathan directed malayalam and Hindi movies starring Amitabh Bachchan in films like Bombay to Goa (1972) and Mahaan (1983) and Zamaanat [1977]. S. Shivaram is noted actor in Kannada cinema. His association with director Puttanna Kanagal produced some unforgattable characters in films like Sharapanjara, Naagarahaavu, Shubhamangala. Some of his notable works includes Chalisuva Modagalu, Shravana Banthu, Haalu Jenu, Hombisilu, Hosa Belaku, Guru Shishyaru, Simhada Mari Sainya, Makkala Sainya and others.
Check out the lyrics here..
Nee Thanda Kaanike Lyrics
movie: Hrudaya Sangama [1972]
Music Label: Saregama
Music: Vijaya Bhaskar
lyrics: R. N. Jayagopal
Singers: S. Janaki, P. B. Sreenivas
Nade Nade Nade Lyrics
movie: Hrudaya Sangama [1972]
Music Label: Saregama
Music: Vijaya Bhaskar
lyrics: Geethapriya
Singers: P. B. Sreenivas
Yeno Kurudu Bhavane Lyrics
movie: Hrudaya Sangama [1972]
Music Label: Saregama
Music: Vijaya Bhaskar
lyrics: Vijayanarasimha
Singers: S. Janaki
Yaaru Nee Yaaru Lyrics
movie: Hrudaya Sangama [1972]
Music Label: Saregama
Music: Vijaya Bhaskar
lyrics: Chi. Udayashankar
Singers: L. R. Eswari
Gandhada Nerigyole Lyrics
Movie: Hrudaya Sangama [1972]
Music Label: Saregama
Music: Vijaya Bhaskar
lyrics: Geethapriya
Singers: Mahesh, Anjali
Nee Thanda Kaanike [S. Janaki] Lyrics
movie: Hrudaya Sangama [1972]
Music Label: Saregama
Music: Vijaya Bhaskar
lyrics: R. N. Jayagopal
Singers: S. Janaki
Comments
comments