July 8, 2022
Jotheyagi Hithavaagi Song Lyrics
Jotheyagi Hithavaagi Song Lyrics: Jotheyagi Hithavaagi is a hit song from the 1986 Kannada film 'Ratha Sapthami', directed by M. S. Rajashekar based on Kannada novel of same name by Vidyullatha Sasanoor.
Ratha Sapthami was produced by S. A. Govindaraj under the banner Bhagavathi Combines. It was remade in Tamil in 1996 as 'Love Birds' starring Prabhu Deva and Nagma in lead roles.
Ratha Sapthami Kannada movie features Shivarajkumar, Asha Rani, Parvathavani, Doddanna, Kanchana, Rajeshwari, Srinath, Roopa Devi, Balaraj, Sundar Raj, Mysore Lokesh, Prashanthi Nayak, Kumari Rekha, Sadashiva Brahmavar, Honnavalli Krishna, Bharathish, Bheema Rao, Aravind, Chi Ravishankar, Krishna, Shivaprakash, Thimmaiah, Sudha Narasimharaju and others.
Jotheyagi Hithavaagi Song Lyrics were penned by Chi. Udaya Shankar and the song was composed by music director Upendra Kumar. This song was rendered by legendary playback singers S. P. Balasubrahmanyam and S. Janaki.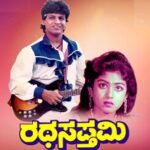 Jotheyagi Hithavaagi Lyrics
Movie: Ratha Sapthami [1986]
Music: Upendra Kumar
Lyrics: Chi. Udaya Shankar
Singers: S. P. Balasubrahmanyam, S. Janaki
Music Label: Sangeetha
Check out 'Jotheyagi Hithavaagi Lyrics' here..
Jotheyaagi Hithavaagi
Seri Nadeva Seri Nudiva
Jotheyaagi Hithavaagi
Seri Nadeva Seri Nudiva
Nanna Badikalli Nee Endu Belakaagiru
Nanna Usiralli Nee Endu Usiraagiru
Ninna Bidalaare Naanendigu
Jotheyaagi Hithavaagi
Seri Nadeva Seri Nudiva
Jotheyaagi Hithavaagi
Seri Nadeva Seri Nudiva
Nanna Badikalli Nee Endu Belakaagiru
Nanna Usiralli Nee Endu Usiraagiru
Ninna Bidalaare Naanendigu
Aa Baana Neralalli Aa Sooryaneduralli
Olavinda Naaveega Ee Gange Dhadadalli
Ondaagi Saviyaada Maathonda Nudiva
Ee Sanje Rangalli Ee Thampu Gaalili
Jotheyaagi Naaveega Shankarana Edhuralli
Impaagi Hithavaagi Maathonda Nudiva
Neene Nanna Praana Namma Pranaya Madhura Gaana
Neene Nanna Praana Namma Pranaya Madhura Gaana
Jotheyaagi Hithavaagi
Seri Nadeva Seri Nudiva
Kanasalli Kandaase Mansalli Iruvaase
Ellavu Ondene Ninnannu Padevaase
Innenu Bekilla Nannaane Nalla
Hagalalli Kandaase Irulalli Bandaase
Ellavu Ondene Ninnodane Iruvaase
Berenu Naa Kele Nannaane Nalla
Endu Heege Iruva Naavu Endu Heege Nalive
Endu Heege Iruva Naavu Endu Heege Nalive
Ninna Bidalaare Naanedigu
Seri Nadeva Seri Nudiva
Nanna Badikalli Nee Endu Belakaagiru
Nanna Usiralli Nee Endu Usiraagiru
Ninna Bidalaare Naanendigu
Ratha Sapthami [1986] Songs List
1. Shilegalu Sangeethava
Music: Upendra Kumar
Lyrics: Chi. Udaya Shankar
Singers: S. P. Balasubrahmanyam, S. Janaki
2. Jotheyagi Hithavaagi
Music: Upendra Kumar
Lyrics: Chi. Udaya Shankar
Singers: S. P. Balasubrahmanyam, S. Janaki
3. Ananda Seri Haadalu
Music: Upendra Kumar
Lyrics: Chi. Udaya Shankar
Singer: S. P. Balasubrahmanyam
4. Nee Yaaru Naan Yaaru
Music: Upendra Kumar
Lyrics: Chi. Udaya Shankar
Singer: S. P. Balasubrahmanyam
5. Olave Hoovagi Balibande
Music: Upendra Kumar
Lyrics: Chi. Udaya Shankar
Singer: S. P. Balasubrahmanyam
Comments
comments