March 9, 2018
Kaliyuga Manmathadasa Lyrics
Kaliyuga Manmathadasa Lyrics: Kaliyuga Manmathadasa is a song from the 1989 Kannada movie Avane Nanna Ganda, directed by S. Umesh and K. Prabhakar. The film was produced by K. Prabhakar under the banner by Vijay Films.
Avane Nanna Ganda features Kashinath, Sudharani, M. P. Shankar, Vanitha Vasu, Anjali Sudhakar, Doddanna, Sihi Kahi Chandru, Mysore Lokesh, Sudheer, C R Simha, Sundar Raj, Kaminidharan and others. Lahari Music was the music label of this movie.
This song was composed and lyrics written by Hamsalekh. Kaliyuga Manmathadasa song was rendered by S. P. Balasubrahmanyam and Shivaraj.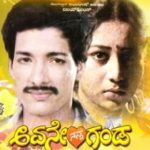 Kaliyuga Manmathadasa Lyrics
Movie: Avane Nanna Ganda [1989]
Music Label: Lahari Music
Music: Hamsalekha
Lyrics: Hamsalekha
Singers: S. P. Balasubramanyam, Shivaraj
Check out 'Kaliyuga Manmathadasa Lyrics' here..
Bham Bham Shambu Sharanam |3|
Kaliyuga Manmatha Daasa
Ninagyaako Kaaviya Vesha
Eradane Maduveya Kelasa
Hebbavina Jotheyali Sarasa
Meese Iradavanu Hendira Thorevavanu
Byaado Ee Budubudike
Aase Thoredavanu Budhdhane Aaguvanu
Horate Sheshaachalake
Kaliyuga Manmatha Daasa Anna
Ninagyaako Kaaviya Vesha
Eradane Maduveya Kelasa
Hebbavina Jotheyali Sarasa
Haranigunu Eradu Shree Harigu
Eradu Sathiyaru Iruvaaga
Devarugale Summane Iruvaaga
Obbala Thithiyaagi Hosabalu Sathiyaagi
Jotheyalu Naguvaaga Aliyandre Yako Muniroga
Gandanadalla Ee Godave
Illi Hendathigaagide Maru Maduve
Gange Paarvathiyara Naduve
Iralillappa Ee Godave
Parara Hendiranna Bhramisi Nodo Kanna
Parade Thegeyo Manganna
Kaliyuga Manmatha Daasa Appa
Ninagyaako Kaaviya Vesha
Eradane Maduveya Kelasa
Hebbhavina Jotheyali Sarasa
Om Namah Shivaaya Om Namah Shivaaya
Aidu Dodda Janaru Obba Dodda Sathiya
Varisida Kathe Illave
Rushimunigalu Sammathi Kodalillave
Maduve Gintha Munche
Sooryanannu Bedi
Kunthi Heralillave Aa Vanithe Raani Aagalillave
Katheyanu Bareyuvudu Sulabha
Vyathe Anubhavisuvudu Kashta Paapa
Baayali Heluvudu Sulabha
Thangalu Thinuvudu Kashta
Parara Hendiranna Bhramisi Nodo Kanna
Parade Thegeyo Manganna
Kaliyuga Manmatha Daasa Anna
Ninagyaako Kaaviya Vesha
Eradane Maduveya Kelasa
Hebbavina Jotheyali Sarasa
Meese Iradavanu Hendira Thorevavanu
Byaado Ee Budubudike
Aase Thoredavanu Budhdhane Aaguvanu
Horate Sheshaachalake
Kaliyuga Manmatha Daasa Appa
Ee Hendathi Sukhave Loss-Aa?
Eradane Maduveya Kelasa
Hebbavina Jotheyali Sarasa
Avane Nanna Ganda Songs
Hasiru Gaajina Balegale
Vichara Hudugiyadadare
Kaliyuga Manmathadasa
Comments
comments