February 4, 2018
Kanasugaarana Ondu Kanasu Lyrics
Kanasugaarana Ondu Kanasu Lyrics: Kanasugaarana Ondu Kanasu Kelamma is a song from 2000 Kannada movie O Nanna Nalle, Directed and written by V. Ravichandran. This film was a remake of the 1999 Tamil film Thulladha Manamum Thullum, directed by Ezhil in his directorial debut featuring Vijay and Simran.
O Nanna Nalle features V. Ravichandran, Isha Koppikar, Srinivasa Murthy, Sadhu Kokila, Kishori Ballal, Chithra Shenoy, Mandya Ramesh, Vijayakashi, Bullet Prakash, Bank Janardhan, Karibasavaiah, Tharakesh Patel, Michel Madhu, Biradar, Mandeep Roy and others. Akash Audio was the music label of this movie.
This Song was composed and lyrics written by V. Ravichandran. Kanasugaarana Ondu Kanasu Song was rendered by S. P. Balasubrahmanyam.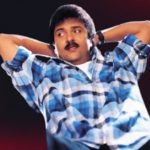 Kanasugaarana Ondu Kanasu Lyrics
Movie: O Nanna Nalle[2000]
Music Label: Akash Audio
Music: V. Ravichandran
Lyrics: V. Ravichandran
Singers: S. P. Balasubrahmanyam
Check Out the Lyrics Here…
Kanasugaarana Ondu Kanasu Kelamma
Kanasugaarana Ondu Kavana Kelamma
Ee Nanna Kavanava Kelalu Aa Chandranu
Kelagilidu Bandanu Mel Hogalu Marethanu
Ee Kavanake Aa Chandira Bili Haaleyaagi
Kaviya Manasu Thumbidanu
Kanasugaarana Ondu Kanasu Kelamma
Kanasugaarana Ondu Kavana Kelamma
Hoovondu Kelithamma Naanilladiddarenu
Neenilladiddare Naguve Illamma
Hoove Illada Loka Namagekamma
Naguve Illada Loka Namagekamma
Ee Lokada Shrungaarave Neene Hoovamma
Ee Lokake Vaiyyaarave Neene Hoovamma
Ee Kavana Keli Aa Chandra Karagidanu
Kanasugaarana Ondu Kanasu Kelamma
Kanasugaarana Ondu Kavana Kelamma
Kanasige Illa Beli Adu Baruvudu Theli
Ee Manasina Aase Kanasaagi Baruvudamma
Naale Annuvude Ee Kanasu Kelamma
Kanasu Illada Baalu Namagekamma
Belake Illada Daariyali Naanu Nadeyaballe
Kanase Illada Daariyali Naa Hege Nadeyali
Ee Nanna Haade Nanna Kanasu Kelamma
Kanasugaarana Ondu Kanasu Kelamma
Kanasugaarana Ondu Kavana Kelamma
Ee Nanna Kavanava Kelalu Aa Chandranu
Kelagilidu Bandanu Mel Hogalu Marethanu
Ee Kavanake Aa Chandira Bili Haaleyaagi
Kaviya Manasu Thumbidanu
Kanasugaarana Ondu Kanasu Kelamma
Kanasugaarana Ondu Kavana Kelamma
O Nanna Nalle Songs:
Kanasugaarana Ondu Kanasu [Male]
Ee Preethige Kannu Illa
Dudde Doddappa Anda Nammappa
O Nanna Nalle Preeethiya Nalle
Rangu Rangina Halli Rangu
Kanasugaarana Ondu Kanasu [Female]
Comments
comments