May 24, 2022
Kannu Kannu Bittukondu Lyrics
Kannu Kannu Bittukondu Lyrics: Kannu Kannu Bittukondu is a song from the 1978 Kannada film 'Vasantha Lakshmi', directed by A. V. Seshagiri Rao and produced by K. Vittala Kumar, K. V. Honnappa and K. V. Gurunath under the banner Vittal Movies.
This movie is a remake of the 1974 Tamil movie Engamma Sapatham directed by S. P. Muthuraman featuring R. Muthuraman, Sivakumar, Jayachitra and Vidhubala.
Vasantha Lakshmi Kannada movie features Srinath, Aarathi, Vishnuvardhan, Manjula, M. P. Shankar, Leelavathi, Pandari Bai, K. S. Ashwath, Vajramuni, Dwarakish, Jayamalini, B. V. Radha, B. Jaya, Thoogudeepa Srinivas, Balakrishna, Narasimharaju, Shivaram, Dinesh, Tiger Prabhakar, M. S. Sathya, Ashwatha Narayana, Jr. Shetty, Comedian Guggu, M. S. Umesh, Baby Indira, Baby Raasi, Naveena, and others.
Kannu Kannu Bittukondu song lyrics were penned by famous Kannada lyricist R. N. Jayagopal and the song was composed by Vijaya Bhaskar. This song was sung by playback singers S. P. Balasubrahmanyam, K. J. Yesudas, S. Janaki, Vani Jairam.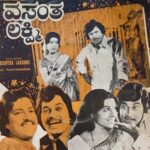 Kannu Kannu Bittukondu Lyrics
Movie: Vasantha Lakshmi [1978]
Music: Vijaya Bhaskar
Singer: S. Janaki
Lyrics: R. N. Jayagopal
Audio Label: Saregama
Check out 'Kannu Kannu Bittukondu Song Lyrics' here..
Kannu Kannu Bittukondu Nodabeda
Henna Nodi Kakkabikki Anjabeda
Hanna Ruchi Nodalikke Anjabeda
Haalu Jenu Kalasi Noda
Kannu Kannu Bittukondu Nodabeda
Henna Nodi Kakkabikki Anjabeda
Hanna Ruchi Nodalikke Anjabeda
Haalu Jenu Kalasi Noda
Yavvana Koladali Eejaadu
Premada Banadali Haaraadu
Chali Chaliyaadare Bisi Beke
Kalavala Neeguva Kushi Beke
Bali Baraleke Anumaana
Koduvenu Hosathara Bahumana
Kannu Kannu Bittukondu Nodabeda
Henna Nodi Kakkabikki Anjabeda
Hanna Ruchi Nodalikke Anjabeda
Haalu Jenu Kalasi Noda
Pranayada Kavyave Naananthe
Puta Puta Rasikathe Jenanthe
Hsai Hsai Hareyada Prathibimba
Kasivisi Tandide Ede Tumba
Anubhava Padeyuva Avakasha
Taruvudu Tadeyada Santosha
Kannu Kannu Bittukondu Nodabeda
Henna Nodi Kakkabikki Anjabeda
Hanna Ruchi Nodalikke Anjabeda
Haalu Jenu Kalasi Noda
Vasantha Lakshmi [1978] Kannada Movie Songs List
Belli Modave Yelli Oduve
Singers: S. P. Balasubrahmanyam, Vani Jairam
Lyrics: Chi. Udaya Shankar
Devanu Thanda Yee Anubandha
Singer: P. Susheela
Lyrics: Chi. Udaya Shankar
Hennugalendoo Abale Yaralla
Singers: S. Janaki, Vani Jairam
Lyrics: Chi. Udaya Shankar
Nadeyalu Naduvu Aadiralu
Singers: S. P. Balasubrahmanyam, K. J. Yesudas, S. Janaki, Vani Jairam
Lyrics: Chi. Udaya Shankar
Kannu Kannu Bittukondu
Singer: S. Janaki
Lyrics: R. N. Jayagopal
Comments
comments