April 8, 2018
Kempe Gowdara Hesaranu Song Lyrics
Kempe Gowdara Hesaranu Song Lyrics: Kempe Gowdara Hesaranu is a song from an upcoming 2018 Kannada movie Prayanikara Gamanakke, directed by Manohar who is making his debut as a director in Kannada movie. he has the experice of working as a assistant director under Pawan Wadeyar. The film was produced by Suresh and Mohan Kumar under the banner Sristhi Enterprises. Prayanikara Gamanak features Bharath Sarja of Verera Pulakeshi fame, Lokesh, Amitha Ranganath, Pavithra, Sahana, Raj Deepak Shtetty, Gopala Krishna Deshapande and others.
Srishti Music is the music label of this movie. This song was composed by Vijeth Krishna with lyrics penned by  A.P. Arjun. Kempe Gowdara Hesaranu song was rendered by Vijay Prakash.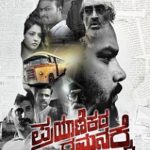 Kempe Gowdara Hesaranu Lyrics
Movie: Prayanikara Gamanakke [2018]
Audio Label: Srishti Music
Music: Vijeth Krishna
Lyrics: A. P. Arjun
Singer: Vijay Prakash
Check out the lyrics here..
Hey Kempegowdara Hesaranu Saaro Bussu Nildaana
Hey Kempegowdara Hesaranu Saaro Bussu Nildaana
Naana Reethi Janaru Baruva Dodda Nildaana
Naana Reethi Janaru Baruva Dodda Nildaana
Balagade Mooleli Kunthavnappa Muddu Ganapanna
Edagade Mooleli Ninthavnappa Namma Hanumanna
Mumbaaga Annamma Himbaaga Ayyappa
Kanarannu Kaayuththa Kunthavrappa
Hey Kempegowdara Hesaranu Saaro Bussu Nildaana
Naana Reethi Janaru Baruva Dodda Nildaana
Madhya Roadalli Mangala Mukhi
Rasthe Badiyalli Jeevana Sukhi
Joru Madthavre Polisu
Aadru Helbeku Addressu
Motte Bonda Bisi Bisi Baale Bajji
Bandlige Haakthavle Vayasaagiro Ajji
Madhya Roadalli Ninthkondu
Song-U Keloru Mooru Jana
Madhya Yaaradru Hogbitre
Video Maadoru Nooru Jana
Jeevana Annodondu Anubhavagala Santhe
Oo Maanava Neenu Yelli Bandu Ninthe
Hey Kempegowdara Hesaranu Saaro Bussu Nildaana
Hey Kempegowdara Hesaranu Saaro Bussu Nildaana
Naana Reethi Janaru Baruva Dodda Nildaana
Life-U Annodu Circle-Llu Alle Suthbeku Ellaru
Route-U Hididavne Driver-Rru Rate-U Helthavne Conductru
Soundu Hornu Janagala Gala Giji Giji Shabdha
Thaatha Ajjina Rasthe Daatisi Gedda
Peepi Oodoru Ondu Kade Paapa Mad'davru Ondu Kade
Seat-U Hididayoru Ondu Kade Bittu Hogoru Ondu Kade
Jeevana Annodondu Kashta Sukhada Kanthe
Oo Maanava Neenu Yelli Bandu Ninthe
Hey Kempegowdara Hesaranu Saaro Bussu Nildaana
Hey Kempegowdara Hesaranu Saaro Bussu Nildaana
Hey Ella Gaadi Hogi Nillod Bere Nildaana
Badukina Bandi Bandu Nillod Onde Nildaana
Adu Devara Nildaanaa…
Prayanikara Gamanakke Songs Lyrics
Hey Kempegowdara Hesaranu
Sanje Adare Soorya Muluguva
Comments
comments