April 8, 2018
Sanje Adare Soorya Muluguva Song Lyrics
Sanje Adare Soorya Muluguva Song Lyrics: Sanje Adare Soorya Muluguva is a song from an upcoming 2018 Kannada movie Prayanikara Gamanakke, directed by Manohar who is making his debut as a director in Kannada movie. he has the experice of working as a assistant director under Pawan Wadeyar. The film was produced by Suresh and Mohan Kumar under the banner Sristhi Enterprises. Prayanikara Gamanak features Bharath Sarja of Verera Pulakeshi fame, Lokesh, Amitha Ranganath, Pavithra, Sahana, Raj Deepak Shtetty, Gopala Krishna Deshapande and others.
Srishti Music is the music label of this movie. This song was composed by Vijeth Krishna with lyrics penned by  Chethan Kumar. Sanje Adare Soorya Muluguva song was rendered by singer Santhosh Venky.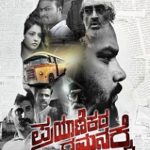 Sanje Adare Soorya Muluguva Lyrics
Movie: Prayanikara Gamanakke [2018]
Audio Label: Srishti Music
Music: Vijeth Krishna
Lyrics: Chethan Kumar
Singer: Santhosh Venky
Check out the lyrics here..
Sanje Adare Soorya Muluguva
Kanasa Buththiya Kott Hoguva
Badukuva Baanige Aa Chandra Inukuva
Kushiya Bharavase Hanchuva
Nee Chintheya Bittu Baaloda Kali
Badukina Bandi Sagali
Ee Huttu Saavu Itta Devaru Yelli Kunthavno
Ithi Illa Mithi Illa Idu Yellige Thalupo Payana
Thilidilla Thiliyalla Balu Rochaka Ee Yaana
Sanje Adare Soorya Muluguva
Kanasa Buththiya Kott Hoguva
Preethiya Hasivige Naralore Jaasthi
Hanchuva Preethi Koneguliyuva Aasthi
Saaguva Mugilige Anthyavu Yaavudo
Theluva Kadalige Koneye Dorakadu
Manasu Manasige Aadhaara
Jeevana Devara Nirdhaara
Nagu Illa Alu Illa Bhayadalli Saago Payana
Dorethilla Doreyalla Aa Nemmadi Nildaana
Baduke Bharavase Aaseya Santhe
Aaseye Dukkhake Moolavu Anthe
Yaara Kailide Jagada Jaathaka
Mundina Kshanavu Yarado Naavika
Karune Mamathe Usiranthe
Sneha Preethige Hesaranthe
Goththilla Guri Illa Manasalle Dweshada Janana
Manasilla Mugiyalla Yedeyalle Preethiya Marana
Sanje Adare Soorya Muluguva
Kanasa Buththiya Kott Hoguva
Prayanikara Gamanakke Songs Lyrics
Hey Kempegowdara Hesaranu
Sanje Adare Soorya Muluguva
Comments
comments