October 9, 2017
Kunidaaduva Vayasidu Lyrics
Kunidaaduva Vayasidu Lyrics: Kunidaaduva Vayasidu is a song from the 1971 Kannada movie Nyayave Devaru, directed by Siddalingaiah. Nyayave Devaru features Rajkumar, B. Saroja Devi, K. S. Ashwath, Aarathi, Dwarakish, M. P. Shankar, Dinesh, B. Jaya, Vajramuni and others. Saregama is the music label of this movie. This song was composed by Rajan-Nagendra with lyrics penned by Chi. Udaya Shankar. Kunidaaduva Vayasidu was rendered by P. B. Sreenivas.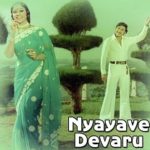 Kunidaaduva Vayasidu Lyrics
Movie: Nyayave Devaru [1971]
Music Label: Saregama
Music: Rajan-Nagendra
Lyrics: Chi. Udaya Shankar
Singer: P. B. Sreenivas
Check out the lyrics here..
Kunidaaduva Vayasidu
Kunidaaduva Vayasidu
Nalidaaduva Dinavidu
Hennu Gandu Bedavilla Illi Ella Ondu
Hennu Gandu Bedavilla Illi Ella Ondu
Aha Aha Aha Oho Oho Oho
College Alli Odovaregu Olle Happy Life-U
College Bittu Hoda Mele Matte Baredee Life-U
College Alli Odovaregu Olle Happy Life-U
College Bittu Hoda Mele Matte Baredee Life-U
Santoshakke Sanjeevave Namma Sweetu Laahu
Nannee Maathu Satya Enalu Nammee Life Proofu
Sukhada Swarga Srushti Maaduva
Kunidaaduva Vayasidu
Nalidaaduva Dinavidu
Hennu Gandu Bedavilla Illi Ella Ondu
Hennu Gandu Bedavilla Illi Ella Ondu
Aha Aha Aha Oho Oho Oho
Papapapapapa Mamamamamama Gagagagagaga Dududu
Onde Kaiyya Beesi Nodu Saddu Kelutthenu
Onde Kaiyya Beesi Nodu Saddu Kelutthenu
Onti Gubbiyanthe Illi Iddu Maadodenu
Onti Gubbiyanthe Illi Iddu Maadodenu
Jollyaagi Kaala Kaleye Ghantu Hogodenu
Jollyaagi Kaala Kaleye Ghantu Hogodenu
Ajjiyaada Mele Heege Sera Balleyenu
Ajjiyaada Mele Heege Sera Balleyenu
Oho.. Jagava Mareva Sukhava Honduva
Kunidaaduva Vayasidu
Nalidaaduva Dinavidu
Madhuvaaithu Enda Mele Hendathiya Chinte
Makkalaayithenda Mele Samsaarave Santhe
Madhuvaaithu Enda Mele Hendathiya Chinte
Makkalaayithenda Mele Samsaarave Santhe
Muppinalli Haleya Nenapu Kaadithinnathanthe
Yavvanave Baalinalli Golden Age Anthe
Oho.. Harushada Aleya Mele Theluva
Kunidaaduva Vayasidu
Nalidaaduva Dinavidu
Hennu Gandu Bedavilla Illi Ella Ondu
Hennu Gandu Bedavilla Illi Ella Ondu
Aha Aha Aha Oho Oho Oho
Nyayave Devaru Songs
Aakaashave Beelali Mele
Kunidaaduva Vayasidu
Endendu Neevu Sukhavaagiri
Paramaathma Aadisidanthe Aaduve
Save
Comments
comments