October 9, 2017
Aakaashave Beelali Mele Lyrics
Aakaashave Beelali Mele Lyrics: Aakaashave Beelali Mele megha hit song from the 1971 Kannada movie Nyayave Devaru, directed by Siddalingaiah. Nyayave Devaru features Rajkumar, B. Saroja Devi, K. S. Ashwath, Aarathi, Dwarakish, M. P. Shankar, Dinesh, B. Jaya, Vajramuni and others. Saregama is the music label of this movie. This song was composed by Rajan-Nagendra with lyrics penned by Chi. Udaya Shankar. Aakaashave Beelali Mele was rendered by P. B. Sreenivas.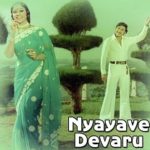 Aakaashave Beelali Mele Lyrics
Movie: Nyayave Devaru [1971]
Music Label: Saregama
Music: Rajan-Nagendra
Lyrics: Chi. Udaya Shankar
Singer: P. B. Sreenivas
Check out the lyrics here..
Aakaashave Beelali Mele
Naanendu Ninnavanu
Bhoomiye Baai Bidali Ille
Naaninna Kai Bidenu
Neeniruvude Nanagaagi
Ee Jeeva Ning Aagi
Hedarikeya Notaveke Odanaadi Naaniruve
Hosa Baalina Haadiyalli Jothegoodi Naa Baruve
Kallirali Mulle Irali Naa Modalu Munnadave
Neenadiya Iduvedeye Olavina Hoo Haasuve
Ee Maathige Manave Saakshi
Ee Bhaashege Devare Saakshi
Innaadaru Nanna Nambi Nageya Chellu Cheluve
Aakaashave Beelali Mele
Naanendu Ninnavanu
Hasemaneyu Namage Indu Naavu Ninatha Thaanavu
Thoogaaduva Hasireleye Shubha Koruva Thoranavu
Hakkigala Chilipili Ghaana Mangalakara Naadavu
Ee Nadiya Kalaravave Manthragala Ghoshavu
Sapthapadi Ee Nadeyaaithu
Sanje Rangu Arathiyaaithu
Innineega Eradu Jeeva Berethu Swargavaaithu
Aakaashave Beelali Mele
Naanendu Ninnavanu
Nyayave Devaru Songs
Aakaashave Beelali Mele
Kunidaaduva Vayasidu
Endendu Neevu Sukhavaagiri
Paramaathma Aadisidanthe Aaduve
Save
Save
Save
Comments
comments