July 12, 2018
Andamaan Kannada Song Lyrics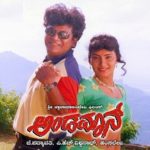 Andamaan Kannada Song Lyrics: Andamaan is a Kannada movie, written and directed by P. H. Vishwanath. The film was jointly produced by Padmalatha under the banner Sri Jwalamalini Devi Productions.
The film was released in 1998 starring Shivarajkumar, Soni, Sumanth, Vinaya Prasad, Baby Niveditha Shivarajkumar, Datthathreya, Ramesh Pandith, Mallikarjunaiah, Makeup Ramakrishna, Jolly Bastin, Lingaraj, Master Akshay, MSL Murthy and others. Baby Niveditha Shiva Rajkumar won State Film Award for Best Child Actor (Female) for her performance in this film.
Lahari Music was the music label of this movie. All songs were composed and written by famous music director Hamsalekha. Songs of this album were rendered by well known singers S. P. Balasubrahmanyam, K. S. Chithra, Rajesh Krishnan and actor Shiva Rajkumar.
Check out the lyrics here..
Naada Naada Premada Naada Lyrics
Movie: Andamaan [1998]
Music Label: Lahari Music
Music: Hamsalekha
Lyrics: Hamsalekha
Singers: S. P. Balasubrahmanyam, K. S. Chithra
Doora Doora Lyrics
Movie: Andamaan [1998]
Music Label: Lahari Music
Music: Hamsalekha
Lyrics: Hamsalekha
Singers: S. P. Balasubrahmanyam, K. S. Chithra
O Magu Nee Nagu Lyrics
Movie: Andamaan [1998]
Music Label: Lahari Music
Music: Hamsalekha
Lyrics: Hamsalekha
Singers: S. P. Balasubrahmanyam, K. S. Chithra
Kaala Meeri Yaake Banthu Lyrics
Movie: Andamaan [1998]
Music Label: Lahari Music
Music: Hamsalekha
Lyrics: Hamsalekha
Singers: S. P. Balasubrahmanyam, K. S. Chithra
Nenapu Nenapu Sihi Lyrics
Movie: Andamaan [1998]
Music Label: Lahari Music
Music: Hamsalekha
Lyrics: Hamsalekha
Singers: Rajesh Krishnan, K. S. Chithra
Andamaan Andamaan Lyrics
Movie: Andamaan [1998]
Music Label: Lahari Music
Music: Hamsalekha
Lyrics: Hamsalekha
Singers: Shiva Rajkumar, K. S. Chithra
Comments
comments