January 9, 2018
Midida Shruthi Song Lyrics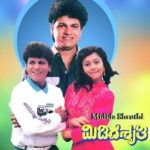 Midida Shruthi Song Lyrics: Midida Shruthi is a 1992 Kannada movie, directed by M. S. Rajashekar and produced by S. A. Govindaraj under the banner Nirupama Art Combines. The film was a adaptation of a kannada novel of the same name written by writer Sai Suthe.The screenplay and dialogues were written by T N Narasimhan and Geethapriya.
The film features Shivarajkumar, Sudharani, Srinath and Vinaya Prasad, Shimoga Venkatesh, Pruthviraj, Bharath, Ravikiran, Devaraj, Hema Choudhary, Sundarashri, Apsara, Parvathi, Sheela, Seema, Leela Basavaraj, Bangalore Nagesh, Mandeep Roy, Naveen, Aravind and others.
Sangeetha Audio is the music label of this movie. Songs were composed by Upendra Kumar with lyrics penned by M. N. Vyasa Rao, Hamsalekha, Sri Ranga and Geethapriya. Songs were rendered by S. P. Balasubrahmanyam and Manjula Gururaj.
Check out the lyrics here..
Aa Surya Chandra Lyrics
Movie: Midida Shruthi [1992]
Music Label: Sangeetha
Music: Upendra Kumar
Lyrics: M. N. Vyasa Rao
Singers: S. P. Balasubrahmanyam, Manjula Gururaj
Yaavudu Preethi Lyrics
Movie: Midida Shruthi [1992]
Music Label: Sangeetha
Music: Upendra Kumar
Lyrics: M. N. Vyasa Rao
Singers: S. P. Balasubrahmanyam, Manjula Gururaj
Nanna Ninna Aase Lyrics
Movie: Midida Shruthi [1992]
Music Label: Sangeetha
Music: Upendra Kumar
Lyrics: Geethapriya
Singers: S. P. Balasubrahmanyam, Manjula Gururaj
Bannada Okuli Lyrics
Movie: Midida Shruthi [1992]
Music Label: Sangeetha
Music: Upendra Kumar
Lyrics: Sri Ranga
Singers: S. P. Balasubrahmanyam, Manjula Gururaj
Nenedodane America Lyrics
Movie: Midida Shruthi [1992]
Music Label: Sangeetha
Music: Upendra Kumar
Lyrics: Hamsalekha
Singer: S. P. Balasubrahmanyam
Comments
comments