February 6, 2018
Naan Yenu Maadli Swamy Lyrics
Naan Yenu Maadli Swamy Lyrics: Naan Yenu Maadli Swamy is a song from 2012 Kannada Movie directed by Dr. Suri, a dentist by profession, who makes his debut in film direction and produced by Radhika Kumaraswamy. Lucky features Yash, Ramya, Sharan, Sadhu Kokila, Biradar, Michel Madhu, M. S. Umesh, Thabla Nani, Shashidhar Bhat, Nanda, Vijay, Lakshmidevamma, Padma Kumuta, Pankaja, Indrajith Lankesh and others.
Ashwini Media Network was the music label of this movie. This Song was composed by Arjun Janya with lyrics penned by Yogaraj Bhat. Naan Yenu Maadli Swamy Song was rendered by Arjun Janya.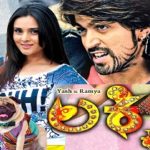 Naan Yenu Maadli Swamy Lyrics
Movie: Lucky [2012]
Music Label: Ashwini Media
Music: Arjun Janya
Lyrics: Yogaraj Bhat
Singers: Arjun Janya
Check Out The Lyrics Here…
Naan Yenu Maadli Swamy
Nan Hudgi Naayi Premi
Naanunu Olle Premi
Ee Naayi Munde Dummy
Hudugi Maneyali Naayi Idre
Lovvu Thumbaane Kashta
Naayi Badalu Hudugigoblu
Thangi Irbaardiththa Nange Sigabaardiththa?
Naa Yenu Maadli Swaamy
Nan Hudgi Naayi Premi
Naanunu Olle Premi
Ee Naayi Munde Dummy
Wait-U Maadthini Praana Hodru Parvagilla
Under World-E Barli Aadre Naayi Beda
White-U Chandranna Huduku Neenu Thappe Illa
Aakashdallu Naane Kande Baiyyaveda
Kaanji Peenji Shwanava
Neenu Tholali Appikolabahude
Hele Preyasi Naaven Kammi
Gap Ali Pappi Kodabaarade
Thu Hudugi Thaleyali Medule Illa
Hechchu Helode Kashta
Love You Antha Helo Badalu
Dichchi Hodeyode Besta
Muchchkondirode Besta
Naa Yenu Maadli Swaamy
Nan Hudgi Naayi Premi
Light-U Kambakke Kattu Ninna Kuththa Kameena
Erde Erdu Naayi Buiscuit Ittu Baare
Weight-U Eththake Naane Ilva Championnu
Hengaara Hegala Mele Haththu Baare
Nanna Ninna Prem Kahaanige
Kunniyu Kaddi Idabhude
Love Ali Cycle Hodeyuva Time Ali
Chakrake Theertha Bidabahude
Thu Hograppa Hen Maklanna Convince Maadode Kashta
Hudugi Kotta Devru Jothege Naayin Yeke Choo Bitta
Kiviya Mele Hoo Itta
Naa Yenu Maadli Swaamy
Nan Hudgi Naayi Premi
Naanunu Olle Premi
Ee Naayi Munde Dummy
Lucky [2012] Songs:
Chennagiddiyalle Neenu
Mandyadinda Odi Banda
Naan Yenu Maadli Swamy
Gowramma Baaramma
Hoovina Santhege Bandiro
Comments
comments