October 9, 2017
Nyayave Devaru Song Lyrics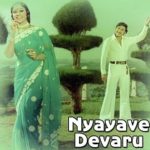 Nyayave Devaru Song Lyrics: Nyayave Devaru is a 1971 Kannada movie, directed by Siddalingaiah. Nyayave Devaru features Rajkumar, B. Saroja Devi, K. S. Ashwath, Aarathi, Dwarakish, M. P. Shankar, Dinesh, B. Jaya, Vajramuni and others. Saregama is the music label of this movie.
Songs were composed by Rajan-Nagendra with lyrics penned by Chi. Udaya Shankar. Songs were rendered by P. B. Sreenivas, P. Susheela and S. P. Balasubrahmanyam.
Check out the lyrics here..
Aakaashave Beelali Mele Lyrics
Movie: Nyayave Devaru [1971]
Music Label: Saregama
Music: Rajan-Nagendra
Lyrics: Chi. Udaya Shankar
Singer: P. B. Sreenivas
Kunidaaduva Vayasidu Lyrics
Movie: Nyayave Devaru [1971]
Music Label: Saregama
Music: Rajan-Nagendra
Lyrics: Chi. Udaya Shankar
Singer: P. B. Sreenivas
Endendu Neevu Sukhavaagiri Lyrics
Movie: Nyayave Devaru [1971]
Music Label: Saregama
Music: Rajan-Nagendra
Lyrics: Chi. Udaya Shankar
Singer: P. Susheela
Paramaathma Aadisidanthe Aaduve Lyrics
Movie: Nyayave Devaru [1971]
Music Label: Saregama
Music: Rajan-Nagendra
Lyrics: Chi. Udaya Shankar
Singer: S. P. Balasubrahmanyam
Save
Comments
comments