April 15, 2022
O Bhoorame Kannada Song Lyrics
O Bhoorame Kannada Song Lyrics: O Bhoorame is a Kannada song fro the 1999 movie Sambhrama, directed by Mahesh Sukhadare and produced under the banner Srinivasa Combines banner. The film is a remake of the 1996 Malayalam film Ee Puzhayum Kadannu, starring Dileep and Manju Warrier.
Sambhrama [1999] Kannada film features Ramesh Aravind, Kaveri, Kalyan Kumar, Hema Panchamukhi, B. V. Radha, Vanishree, H. G. Dattatreya, Srinivasa Murthy, M. N. Lakshmi Devi, Karibasavaiah, Surekha, Nagesh Yadav, Poorvi Kulkarni, and others.
O Bhoorame Kannada song lyrics were penned and composed by music director Hamsalekha. This song was rendered by playback singer K. S. Chithra. Jhankar music is the music label of this movie.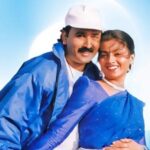 O Bhoorame Kannada Song Lyrics
Movie: Sambhrama [1999]
Music & Lyrics: Hamsalekha
Singers: K. S. Chithra
Cast: Ramesh Aravind, Kaveri
Music Label: Jhankar Music
Check out 'O Bhoorame Kannada Song Lyrics' here..
O Bhoorame..
Joga Joga Jogadinda
Jaaro Jaaro Neerininda
Snaana Maado Ninna Sambhrama..
O Bhoorame..
Kaala Kaala Kaaladinda
Maaghi Maado Maayadinda
Neenu Mai Nereyo Sambhrama..
Sambhrama..
Sambhrama..
Sambhrama..
Sambhrama..
Baala Baaninalli Prema Sooryanu
Bandhanu
Bandhanu
Sooryananthe Naanu Jaari Hodhenu
Endhanu
Ninthanu
Anthara Gangeye Nodu Nee Nannalli
Prema Vaahini Vaahini
Chaithradha Kogile Kelu Nee Nanna Ee
Raga Vaahini..
Oh Bhoorame
Yaava Bhaale Heluthale
Sumne Preethi Maaduthale
Neene Helu Nanna Sambhrama
Prema Dhaareyinda Thumbhi Hogide
Hrudhayadha
Jalaashaya
Hege Thereyalendhu Naachi Ninthidhe
Hrudhayadha
Baagilu
Avane Thereyali Hennaase Thiliyali
Endhe Naa.. Oh Bhoorame
Helalu Anandha Bachchidalu Anandha
Bhoorame…
Ee Sambhrama..
Elu Elu Janmadindha
Haadi Koodikondu Bandha
Amara Madhura Prema Sambhrama..
Sambhrama [1999] Kannada Movie Songs Lyrics
Namaskara Ninage Bhaskara
Lyrics: Hamsalekha
Singers: Anuradha Sriram, Ramesh Chandra
Yaaru Bhoomige Modala Baarige
Lyrics: Hamsalekha
Singer: S. P. Balasubrahmanyam
O Bhoorame
Lyrics: Hamsalekha
Singer: K. S. Chithra
Hubli Hudugi
Lyrics: Hamsalekha
Singers: S. P. Balasubrahmanyam, Anuradha Sriram
What A Smile
Lyrics: Hamsalekha
Singers: S. P. Balasubrahmanyam, K. S. Chithra
Comments
comments