June 22, 2018
Oho Giligale Lyrics | Thayi Kotta Seere
Oho Giligale Lyrics | Thayi Kotta Seere: Oho Giligaleis a song from the 1997 Kannada movie Thayi Kotta Seere, directed by S. Narayan and produced by Smt Yashoda Shivananjaiah under the banner H. R. P. Associates. Thayi Kotta Seere features Kumar Govind, Shruti, S. Narayan, Dilip, Srinivasamurthy, Doddanna, Goutham (Dolly), Shobhraj, Hema Choudhary, Sudha, Jyothi, Asha, Padmanabharaj, Dynamic Suresh, Kapali, Shankar, Sathish Haravu, Chikkade Balaraj, Padmamma, Baby Bhavya, Smt Balaraj and others.
Jhankar Music is the music label of this movie. This song was composed K. Kalyan with lyrics penned by S. Narayan. Oho Giligale song was rendered by playback singer S. P. Balasubrahmanyam.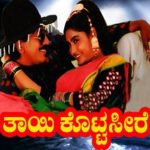 Oho Giligale Lyrics
Movie: Thayi Kotta Seere [1997]
Music Label: Jhankar Music
Music: K. Kalyan
Lyrics: S. Narayan
Singers: S. P. Balasubrahmanyam
Check out the lyrics here..
Oho Giligale Giligale Giligale Keli
Naa Chilipili Cheluveya Munde Sothiruve
Oho Giligale Giligale Giligale Keli
Naa Chilipili Cheluveya Munde Sothiruve
Chin Chilipili Naada Hoo Manasina Veda
Ee Cheluveya Spoorthige Anuvaada
Oho Giligale Giligale Giligale Keli
Naa Chilipili Cheluveya Munde Sothiruve
Ee Cheluve Hosa Kaamanabillu
Ee Naguve Kavi Kaayuva Saalu
Manju Muchchalu Manasali Panju Hachcholu
Suriyuva Belu Beladingala Kudiyuva Pori
Nudiyade Manasina Padagala Nudisuva Chori
Thana Nam Thana Thana Nam Ivala Hesare Thana Nam
Oho Giligale Giligale Giligale Keli
Naa Chilipili Cheluveya Munde Sothiruve
Oho Giligale Giligale Giligale Keli
Naa Chilipili Cheluveya Munde Sothiruve
Ee Cheluve Hosa Chithrada Gelathi
Ee Cheluve Nithya Hunnime Savathi
Kaadu Kunthalo Yedeyali Haadu Hodalo
Ee Dhare Melina Hasirina Outhana Dhaare
Rasikana Manasina There Mare Kanasina Thaare
Thana Nam Thana Thana Nam Ivala Sparshave Thana Nam
Oho Giligale Giligale Giligale Keli Naa Chilipili Cheluveya Munde Sothiruve |2|
Chin Chilipili Naada Hoo Manasina Veda
Ee Cheluveya Spoorthige Anuvaada
Thayi Kotta Seere [1997] Songs:
Thaayi Kotta Seere Magala
Kogile Kogile
Arare Ee Preethiya
Malli Malli Mallige
Oho Giligale
Suvvi Suvvi Suvvale
Comments
comments