June 22, 2018
Suvvi Suvvi Suvvale Lyrics | Thayi Kotta Seere
Suvvi Suvvi Suvvale Lyrics | Thayi Kotta Seere: Suvvi Suvvi Suvvale is a song from the 1997 Kannada movie Thayi Kotta Seere, directed by S. Narayan and produced by Smt Yashoda Shivananjaiah under the banner H. R. P. Associates. Thayi Kotta Seere features Kumar Govind, Shruti, S. Narayan, Dilip, Srinivasamurthy, Doddanna, Goutham (Dolly), Shobhraj, Hema Choudhary, Sudha, Jyothi, Asha, Padmanabharaj, Dynamic Suresh, Kapali, Shankar, Sathish Haravu, Chikkade Balaraj, Padmamma, Baby Bhavya, Smt Balaraj and others.
Jhankar Music is the music label of this movie. This song was composed K. Kalyan with lyrics penned by S. Narayan. Suvvi Suvvi Suvvale song was rendered by playback singer L. N. Shastri.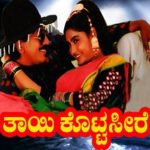 Suvvi Suvvi Suvvale Lyrics
Movie: Thayi Kotta Seere [1997]
Music Label: Jhankar Music
Music: K. Kalyan
Lyrics: S. Narayan
Singers: L. N. Shastri
Check out the lyrics here..
Suvvi Suvvi Suvvale Suvvi Suvvale |2|
Hey Suvvi Suvvale Suvvi Suvvale
Suvvale Suvvale Suvvi Suvvale
Ooo Hooo O Hoooo Ooo Ooo Ooo Ho
Sampige Sampige Sampige
Sakkare Thumbida Bindige
Ee Hongeya Theru Nam Girijege Sooru
Ee Mannina Hasire Ivalandake Thouru
Minchi Minugo Ivale Hunnime
Sampige Sampige Sampige
Sakkare Thumbida Bindige
Suvvi Suvvi Suvvale Suvvi Suvvale
Laa La Laa Lala Lala Lala Laa La Laa Lala Lala Lala
Yavonappa Roopa Kottonu
Kanna Myage Deepa Ittonu
Nachikena Bachikotta Roopavanthe
Praaya Bandu Appikonda Andavanthe
Yavvi Yavvi
Arere Baayi Bittaga Muththu Minchyaave
Nee Nakkaaga Belli Moodyaave
Baale Thengella Suvvaali Haadyaave
Oora Thumbella Rangoli Chellyaave
Arishina Maiiyina Angadole
Thaavare Naachuva Bannadole
Sampige Sampige Sampige
Sakkare Thumbida Bindige
Ee Hongeya Theru Nam Girijege Sooru
Ee Mannina Hasire Ivalandake Thouru
Minchi Minugo Ivale Hunnime
Zum Zum Zum Chakka Chaa Zum Zum Zum Chakka Chaa
Gandhava Thedu Kennege Neer Haakuva Bannire
Aarathi Maadi Drushtiya Theedi Ee Koosanu Thannire
Hasuru Baleya Thodisire Moggina Dinda Mudisire
Zariya Langava Udisire Siriya Suridu Harasire
Jenina Outhana Girijegella Hosathana
Sampige Sampige Sampige
Sakkare Thumbida Bindige
Ee Hongeya Theru Nam Girijege Sooru
Ee Mannina Hasire Ivalandake Thouru
Minchi Minugo Ivale Hunnime
Thayi Kotta Seere [1997] Songs:
Thaayi Kotta Seere Magala
Kogile Kogile
Arare Ee Preethiya
Malli Malli Mallige
Oho Giligale
Suvvi Suvvi Suvvale
Comments
comments