August 7, 2018
Prathamam Vakrathundamcha lyrics | Balagalittu Olage Baa
Prathamam Vakrathundamcha lyrics | Balagalittu Olage Baa : Prathamam Vakrathundamcha is a song from the 2002 Kannada movie Balagalittu Olage Baa, directed by Dinesh Babu and produced by Smt & Sri Raman under the banner of Ambale Arts.
Balagalittu Olagade Baa was released in 2002 starring S. Narayan, Chaya Singh, Mukyamanthri Chandru, Ramesh Bhat, Ramakrishna, M S Umesh, Bank Janardhan, Karibasavaiah, Ganesh Varsha, Chithra Shenoy, B Jayashree, Sathyapriya, Bhagyashree, Reethu Singh, Deepa, Bhagya Rai, Baby Swathi, Rajendra Jetti, V K Murthy, Devendra Jain, Sharath, Shivakumar Mysore, Shivu Mysore, Narayan Swamy and others.
Ashwini Recording Company was the music label of this movie. This song was composed and written by Nadabrahma Hamsalekha. Prathamam Vakrathundamcha song was rendered by K.J. Yesudas.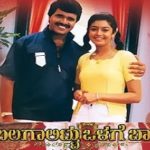 Prathamam Vakrathundamcha lyrics | Balagalittu Olage Baa

Movie: Balagalittu Olage Baa [2002]
Music Label: Ashwini Recording Company
Music: Hamsalekha
Lyrics: Hamsalekha
Singer: K.J. Yesudas
Check out the lyrics here…
Pranamya Shirasa Devam
Gauri Putram Vinayakam.
Bhakthavasam Smaretrityamayuh
Kama Artha Sidhaye
Prathamam Vakratundam Cha
Ekadantam Dweethiyakam
Thrithiyam Krishna Pingaksham
Gajavakthram Chathurthakam
Lambodaram Panchamam Cha
Shashtam Vikatamev Cha
Sapthamam Vigna Rajendra Cha
Dhoomra Varnam Thathashtamam
Navamam Bhalchandram Cha
Dashamam Thu Vinayakam.
Ekadasham Ganapathim
Dwadasham Tu Gajananam
Dwadasaithani Namani
Thrisandhyam Yah Pathenara Ha
Na Cha Vighna Bhayam Thasya
Sarvsiddhi Karam Prabho Namo Namaha
Vidhyarthi Labhate Vidhyam
Danarthi Labhate Dhanam
Putrarthi Labhate Putran
Moksharthi Labhate Gateem
Japet Ganapati Stotram
Shadbhirmasai Phalam Labheth.
Samvatsarena Sidhim Cha
Labhate Natra Sanshaya
Ashtabhyo Brahmoyashr
Likihitwa Yh Samarpayet
Tasya Vidhya Bhavetsarva
Ganeshasya Prasadatah
Om Om Om
Om Bhur Bhuvah Svah
Thath-Savithur-Varennyam
Bhargo Devasya Dheemahi
Dhiyo Yo Yo Nah Pracodayaath
Check out other Ganseha Songs
Ekadantaya Vakratundaya Gauri Thanahaya Yadhi Mahi
Sharanu Sharanayya Sharanu Ganapa
Gajamukhane Ganapathiye Ninage Vandane
Ganesha Astottara Shatanamavali | 108 Names of Lord Ganesha
Balagalittu Olage Baa [2002] Songs
Balagalittu Olagade Baa
Haadendare Bhayavamma
Haadendare Maguvamma
Hey Rame Rama
Hutti Bande Ee Mane
Nadeyo Ninna Manadaramanege
Prathamam Vakrathundamcha
Comments
comments