April 9, 2018
Preethiyo Premavo Mohavo Song Lyrics
Preethiyo Premavo Mohavo Song Lyrics: Preethiyo Premavo Mohavo is a song from the 1988 Kannada movie Samyuktha, directed by K. N. Chandrashekar Sharma. The film was produced by S. A. Govinda Raj and V. Bharath Raj under the banner Nirupama Art Combines. The film was based on a kannada novel 'Musuku' by writer Kakolu Saroja Rao.
Samyuktha features Shivarajkumar, Balaraj, Chi Guru Dutt, K. S. Ashwath, Veena, Sundar Krishna Urs, Avinash, Sundar Raj, Shivaram, Honnavalli Krishna, Ashwath Narayana, Sathish, Brahmavar, Roopadevi,Sudha Narasimharaju, Prashanthi Nayak, Nayana, Shyamala, Neegro Johny, Rajeshwari, Devaraj, Batti Mahadevappa, Keetrhi Kumar, Kunigal Ramanath, Circus Raja and others.
Musicians Shankar Ganesh scored the background music for this film. This song was composed by very famous director Singeetham Srinivasa Rao with lyrics penned by one and only Chi. Udaya Shankar. Preethiyo Premavo Mohavo was rendered by Singer Vani Jairam and S. P. Balasubrahmanyam.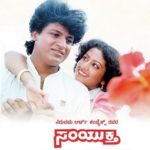 Preethiyo Premavo Mohavo Lyrics
Movie: Samyuktha [1988]
Audio Label: Lahari Music
Music: Singeetham Srinivasa Rao
Lyrics: Chi. Udaya Shankar
Singers: S. P. Balasubrahmanyam, Vani Jairam
Check out the lyrics here..
Preethiyo Premavo Mohavo
Nammali Moodida Snehavo
Yenadaro Nee Heliko Neene Nanna Praanavo
Preethiyo Premavo Mohavo
Nammali Moodida Snehavo
Yenadaru Nee Heliko Neene Nanna Praanavo
Preethiyo Premavo Mohavo
Nammali Moodida Snehavo
Baanindali Ee Bhoomige
Thaanagi Jaari Banda Hoove
Ninnandake Vaiyyarake
Saati Illa Bere Yaaru Nanna Olave
Kendaavare Santhoshavu
Aa Soorya Moodidaaga Thaane
Ee Hennina Aanandavu Nalla Ninna
Prema Savida Mele Thaane
Baalali Ninna Nodide
Baalalai Ninna Nodide
Hego Ninna Seride
Preethiyo Premavo Mohavo
Nammali Moodida Snehavo
Yenadaro Nee Heliko Neene Nanna Praanavo |2|
Sangeethavu Saahithyavu
Ondaagi Seridaaga Thaane
Aa Geetheya Soundaryake
Maaru Hogi Honna Kalasha Itta Haage
Naa Koogide Kare Needide
Sangaathi Yaagi Baare Yendee
Aa Maathige Nee Solutha
Daari Deepavaagi Nanna Balige Bande
Maathale Modi Haakuve
Maathale Modi Haakuve
Notadalle Kolluve
Preethiyo Premavo Mohavo
Nammali Moodida Snehavo
Yenadaro Nee Heliko Neene Nanna Praanavo |2|
Samyuktha Kannada Movie Songs
Ee Namma Naade Lyrics
Mysoorinalli Mallige
Preethiyo Premavo Mohavo
Aakasha Baagide
Thangaaliyagi Hode
Comments
comments