April 9, 2018
Thangaaliyagi Hode Song Lyrics
Thangaaliyagi Hode Song Lyrics: Thangaaliyagi Hode is a song from the 1988 Kannada movie Samyuktha, directed by K. N. Chandrashekar Sharma. The film was produced by S. A. Govinda Raj and V. Bharath Raj under the banner Nirupama Art Combines. The film was based on a kannada novel 'Musuku' by writer Kakolu Saroja Rao.
Samyuktha features Shivarajkumar, Balaraj, Chi Guru Dutt, K. S. Ashwath, Veena, Sundar Krishna Urs, Avinash, Sundar Raj, Shivaram, Honnavalli Krishna, Ashwath Narayana, Sathish, Brahmavar, Roopadevi,Sudha Narasimharaju, Prashanthi Nayak, Nayana, Shyamala, Neegro Johny, Rajeshwari, Devaraj, Batti Mahadevappa, Keetrhi Kumar, Kunigal Ramanath, Circus Raja and others. Musicians Shankar Ganesh scored the background music for this film.
K. N. Chandrashekar Sharma is a writer and director in Kannada film industry. He had written screenplay for several movies. He directed movies like Mathru Bhagya, Samyuktha, Mavano Aliyano, Guru Bhakthi and Mutthaide Bhagya.
This song was composed by very famous director Singeetham Srinivasa Rao with lyrics penned by one and only Chi. Udaya Shankar. Thangaaliyagi Hode was rendered by none other than the great S. Janaki.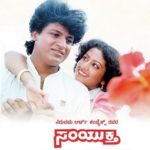 Thangaaliyagi Hode Lyrics
Movie: Samyuktha [1988]
Audio Label: Lahari Music
Music: Singeetham Srinivasa Rao
Lyrics: Chi. Udaya Shankar
Singer: S. Janaki
Check out the lyrics here..
Thangaaliyaagi Hode
Thelaadi Thelaadi Bande
Irulali Neralaagi Aledenu Ninagaagi
Nanagaagi Nee Baareya
Priya Priya Priya Priya Priya Priya
Thangaaliyaagi Hode
Thelaadi Thelaadi Bande
Irulali Neralaagi Aledenu Ninagaagi
Nanagaagi Nee Baareya
Priya Priya Priya Priya Priya Priya
Neenillada Ee Vedane
Naa Thaale Baaro Priya
Belagaadare Naa Kaanenu
Nannaane Kelo Priya
Ee Rathriya Aanadake
Ee Rathriya Aanadake
Jotheyaagi Baralaareya
Priya Priya Priya Priya Priya Priya
Thangaaliyaagi Hode
Thelaadi Thelaadi Bande
Irulali Neralaagi Aledenu Ninagaagi
Nanagaagi Nee Baareya
Priya Priya Priya Priya Priya Priya
Beladingala Kene Haalali
Meeyona Ullasadi
Kaaveriya Jalaraashili
Eejona Santhoshadi
Olavindali Ondaguva
Olavindali Ondaguva Inneke Viraha
Priya Priya Priya Priya Priya Priya
Thangaaliyaagi Hode
Thelaadi Thelaadi Bande
Irulali Neralaagi Aledenu Ninagaagi
Nanagaagi Nee Baareya
Priya Priya Priya Priya Priya Priya
Samyuktha Kannada Movie Songs
Ee Namma Naade Lyrics
Mysoorinalli Mallige
Preethiyo Premavo Mohavo
Aakasha Baagide
Thangaaliyagi Hode
Comments
comments