March 11, 2018
Rama Baana Ede Seeli Lyrics
Rama Baana Ede Seeli Lyrics:  Rama Baana Ede Seeli is a song from the 1992 Kannada movie Belli Modagalu, directed by K. V. Raju. The film was produced by G Govinda, T N Venkatesh, J G Krishna under the banner G V K Productions. Belli Modagalu features Ramesh Aravind, Malashri, Jayanthi, Doddanna, Thoogudeepa Srinivas, Ramakrishna, Avinash, Jyothi, Ramamurthy and others. This film was a remake of Seetharamaiah Gari Manavaralu [Telugu] which was earlier made in Malayalam as Sandhwanam and later remade in Hindi as Udhaar Ki Zindagi.
Sangeetha Music is the music label of this movie. This song was composed by Upendra Kumar with lyrics penned by K. V. Raju.  Rama Baana Ede Seeli song was rendered by Mano and Sangeetha Katti.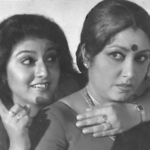 Rama Baana Ede Seeli Lyrics
Movie: Belli Modagalu [1992]
Music Label: Sangeetha
Music: Upendra Kumar
Lyrics: K. V. Raju
Singers: Mano, Sangeetha Katti
Check out the lyrics here..
Rama Baana Ede Seeli Nintha Samaya
Vara Mandooka Neenena Hey Raama Marugithu
Novina Dhanige Raamanaada Hrudaya
Badukina Hithava Thilisalu Rathava
Nadesida Hariya Katheyanu Bareda
Rushimuni Vyasa Ihapara
Raghuvara Kanikara Hithakara
Nudidare Hithakara Padeyuve Ihapara
Geetheya Olage Jeevaraashi Chalana
Belakondalla Nooraaru Ee Baala Mukuthige
Geetheye Ninage Prema Poorna Namana
Raghukula Guna Charithaaaa
Raghukula Guna Charithaaaa
Agasana Bhootha Dhareyanu Sudalu
Raghuvara Pootha Hagalali Irulu
Anuraagada Hrudaya Vedane
Nele Kaanalu Urige Arpane
Dhwani Ondalla Nooraaru
Muthsanje Mareyali Jagadodala
Suduthiruva Samayadi
Benkiya Olage Seethe Maththe Janana
Dhare Baanella Neeraadi Kannaali Thereyithu
Raama Baana Ede Seeli Nintha Samaya
Swaragala Hosa Paluke Hasurina Gili Meluke
Navarasa Thaaki Haridive Kirana
Nava Suma Saaki Tharalive Chethana
Mugilaagali Naguva Raagavu
Nadiyaagali Mugila Modavu
Swara Jhenkaara Omkara Thaanaagi Haadali
Nagunagutha Anavaratha Dhareyali
Raama Baana Ede Seeli Nintha Samaya
Swara Jhenkaara Omkara Thaanaagi Haadali
Raama Baana Ede Seeli Nintha Samaya
Thani Thani Ereva Badukina Mukhava
Swaravagi Sere Ihapara
Kanikara Hithakara Raghuvara
Nudidare Hithakara Padeyuve Ihapara
Geetheya Olage Jeevaraashi Chalana
Belakondalla Nooraaru Ee Baala Mukuthige
Geetheye Ninage Prema Poorna Namana
Belli Modagalu Songs
Hrudayave Ninna Hesarige
Male Billa Singara
Rama Baana Ede Seeli
Mavinali Hosa Thorana
Lokavane Thoogiruva
Bhoomiyali Chandirana
Comments
comments