January 16, 2018
Rani Maharani Kannada Song Lyrics
Rani Maharani Kannada Song Lyrics: Rani Maharani is 1990 Kannada movie, directed by B. Ramamurthy. The film was produced by Jai Jagadish under the banner Arpitha Arts.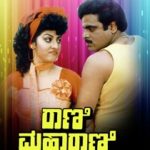 Rani Maharani features ensemble cast of Rebel Star Ambareesh, Kanasina Rani Malashri, Shashikumar, Jaggesh, Umashree, Doddanna, Mysore Lokesh, Umesh, Tennis Krishna, MSL Murthy, Bheema Rao, Anjanappa, Shankar Bhat, Chennayya, Shanthamma, Sithara, Prabhavathi, Master Anand, Master Guru, Master Vinay, Master Varadarajan, Master Prakash, Master Kiran Kumar, Baby Rekha, Baby Chithra and others. The film is said to be inspired from Hindi movies, Seeta Aur Geeta (1972) and ChaalBaaz (1989).
Lahari Music was the music label of this movie. Songs were composed and written by Hamsalekha. Songs were rendered by S. P. Balasubrahmanyam, Ramesh and Manjula Gururaj.
Check out the lyrics here..
Gundige Kal Gundige Lyrics
Movie: Rani Maharani [1990]
Music Label: Lahari Music
Music: Hamsalekha
Lyrics: Hamsalekha
Singers: S. P. Balasubrahmanyam, Manjula Gururaj
Koogo Kolige Kaara Masale Lyrics
Movie: Rani Maharani [1990]
Music Label: Lahari Music
Music: Hamsalekha
Lyrics: Hamsalekha
Singer: Manjula Gururaj
Baare Binkamma Lyrics
Movie: Rani Maharani [1990]
Music Label: Lahari Music
Music: Hamsalekha
Lyrics: Hamsalekha
Singers: Ramesh, Manjula Gururaj
Eddalo Eddalo Lyrics
Movie: Rani Maharani [1990]
Music Label: Lahari Music
Music: Hamsalekha
Lyrics: Hamsalekha
Singer: Manjula Gururaj
Bandalo Bandalo Lyrics
Movie: Rani Maharani [1990]
Music Label: Lahari Music
Music: Hamsalekha
Lyrics: Hamsalekha
Singer: Manjula Gururaj
Comments
comments