October 3, 2018
Saaru Saaru Miltry Saaru Lyrics | Muthina Haara
Saaru Saaru Miltry Saaru Lyrics | Muthina Haara: Saaru Saaru Miltry Saaru is a Kannada song sung by playback singers S. P. Balasubrahmanyam and Latha Hamsalekha from the 1990 Kannada movie Muthina Haara [Muttina Haara], directed by S. V. Rajendra Singh Babu.
The story was written by V. M. Joshi and Dialogues were written by R. N. Jayagopal. The film was produced by Rajendra Singh Babu under the banner Rohini Pictures. Muthina Haara features Vishnuvardhan, Suhasini, K. S. Ashwath, Ramkumar, Sihikahi Chandru, Sadashiva Brahmavar, Master Anand, Kavya, Prakash Rai and others. Lahari Music is the music label of this movie. This song was composed and written by Hamsalekha.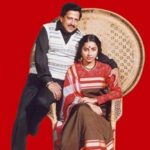 Saaru Saaru Miltry Saaru Lyrics
Movie: Muthina Haara [1990]
Music Label: Lahari Music
Music: Hamsalekha
Lyrics: Hamsalekha
Singers: S. P. Balasubrahmanyam, Latha Hamsalekha
Check out the lyrics here..
Saaru Saaru Miltry Saaru
Saaru Saaru Miltry Saaru
Yaaru Yaaru Naanu Yaaru
Heli Saaru
Maari Maari Thante Maari
Maari Maari Thante Maari
Kele Kelu Ene Kelu
Hedaror Yaaru Han
Koneyalli Mancha Kaayuthittu..
Nanna Jeeva Ninna Keluthittu..
Neenu Barade
Hasikond Hode
Nanu Yaaru
Thigane Mariye
Thigane Mariye
Rakta Heero Ha Ha Aase Mariye
Ninna Odalu Neeralliralu Neenu Yaaru
Saaru Saaru Mensin Saaru
Oh Hohoho Yyee..
Chitikeyalle Baruve Naanu Swarga Toruve
Hattu Kaigu Tuttu Needi Hotte Tumbuve
Miltry Saaru He He Naanu Yaaru
Moogu Nashya Aa Shi
Ambaalu Nashya Ayyayyo
Kempu Kempu Nanna Maiya Banna Kempage
Hotte Olage Iruva Chinnada Kaasu Yarige
Miltry Saaru Hey Hey Naanu Yaaru
Menasina Kaayi..
Menasina Kaayi..
Ninna Hesare.. Khara Baayi
Khara Baayi Khara Baayi
Shuu Khara Baayi
Saaru Saaru Miltry Saaru
Ayyooo Ha Han
Ajji Ajji Ajji Maige Kajji Bandide
Sonta Irade Paapa Jothu Biddu Toogide
Miltry Saaru.. Hey Hey Naanu Yaaru
Haagalkai
Ayyo
Thegi Bega Baayi
Ayyayyooo
Kote Kote Nandu Elu Suttina Koteyo
Kote Katto Sainya Nanna Hottege Beteyo
Miltry Saaru.. He He Naanu Yaaru
Naagara Haave..
Haavolu Hoove..
Baagila Biladi..
Ninnaya Thaave..
Gedde Naanu Sothe Neenu
Kele Innu..
Thandeya Chinnaa Thanna Kaiyali Hidiva Ho..
Taayiya Annaa Thanna Baayali Kadiva Ho Ho
Hele Neenu..
Ha Hele Neenu.. Yaare Naanu ?
Muthina Haara [1990] Songs
Devaru Hoseda Premada Daara
Madikeri Sipaayi
Saaru Saaru Miltry Saaru
Kodaginolu Bedaginolu
Kodagina Veera
Comments
comments