October 3, 2018
Kodagina Veera Song Lyrics | Muthina Haara
Kodagina Veera Song Lyrics | Muthina Haara: Kodagina Veera [Huliya Haalina Mevu] is a Kannada song sung by playback singers S. P. Balasubrahmanyam and K. S. Chithra from the 1990 Kannada movie Muthina Haara [Muttina Haara], directed by S. V. Rajendra Singh Babu. The story was written by V. M. Joshi and Dialogues were written by R. N. Jayagopal.
The film was produced by Rajendra Singh Babu under the banner Rohini Pictures. Muthina Haara features Vishnuvardhan, Suhasini, K. S. Ashwath, Ramkumar, Sihikahi Chandru, Sadashiva Brahmavar, Master Anand, Kavya, Prakash Rai and others. Lahari Music is the music label of this movie. This song was composed and written by Hamsalekha.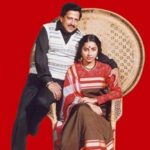 Kodagina Veera Lyrics
Movie: Muthina Haara [1990]
Music Label: Lahari Music
Music: Hamsalekha
Lyrics: Hamsalekha
Singers: S. P. Balasubrahmanyam, K. S. Chithra
Check out the lyrics here..
Kodagina Veeran Gandede Shooran
Thale Gurikaran Puli Konda Dheeran
—
Huliya Haalina Mevu Eredenu Ninage..
Savidu Beleyo Kodavane..
Aane Danthava Naanu Kodevenu Ninage..
Aadi Beleyo Kodavane..
Kaaverammana Madila Kanda Laali Laali Jo
Kaverammera Kunje Neenu Laali Laali Jo
Thaaynaadigaagi Hidiyo Kaili Khadga Khadga
Kodava Hey Kodava Hidi Khadga
Yede Seelo Jodi Koviyalli Gundu Sidi Gundu
Kodava Hey Kodava Nee Gandu
Kodavara Hennu Heththare Swarga
Yudhdhadi Gandu Saththare Swarga
Kaaveri Thaayi Kotta Naadu Nammadu
Ee Manninalli Nooru Janma Nammadu
Aaa.. Ooo..
Navane Beesalu Ninage Hebbava Koduve Aaa..
Desha Kaayo Kodavane. Aaa…
Kaverammanu Ninage Vijaya Maale Tharalayya
Kaveramme Neek Vijaya Maale Thakkulaa..
Kodagalli Janisi Banda Banda Chandra Ee Chandra
Huththariya Huththariya Chandra
Irulalli Belaka Thanda Thanda Chandra Ee Chandra
Huththariya Huththariya Chandra
Nammane Deepa Devara Roopa
Kaiyyali Kovi Veerana Teevi
Varavaagi Thanda Namage Ee Puttappanu
Varaaythu Thathnathu
Kodagina Veeran Gandede Shooran
Thale Gurikaran Puli Konda Dheeran
—
Avva Avva Naada Muththunatha Avva
Pappa Naada Pappa Pappa Elliga Poyitta
Mone Mone Naada Muthtunantha Mone
Pappa Needa Pappa Desha Kaaipaku Poyitta
Kodavara Hennu Heththare Swarga
Yudhdhadi Gandu Saththare Swarga
Kaaveri Thaayi Kotta Naadu Nammadu
Ee Manninalli Nooru Janma Nammadu
Muthina Haara [1990] Songs
Devaru Hoseda Premada Daara
Madikeri Sipaayi
Saaru Saaru Miltry Saaru
Kodaginolu Bedaginolu
Kodagina Veera
Comments
comments