November 17, 2023
Sandy Master Menacing Look In His Debut Kannada Film – Rosy
Sandy Master Menacing Look In His Debut Kannada Film – Rosy: Renowned Tamil choreographer Sandy Master has mesmerized audiences with his dance moves, and now he is ready to make his mark in the Kannada cinema with his debut as a lead actor in the upcoming gangster-drama film "Rosy."
In "Rosy," Sandy will portray the lead role of Aandaal, a character that promises to showcase his versatility as an actor. The film is written and directed by Shoonya, with DY Rajesh and DY Vinod jointly producing. Lokesh Kanagaraj, known for his directorial ventures, shared the film's first look poster on social media, expressing his excitement about Sandy's new trajectory as an actor.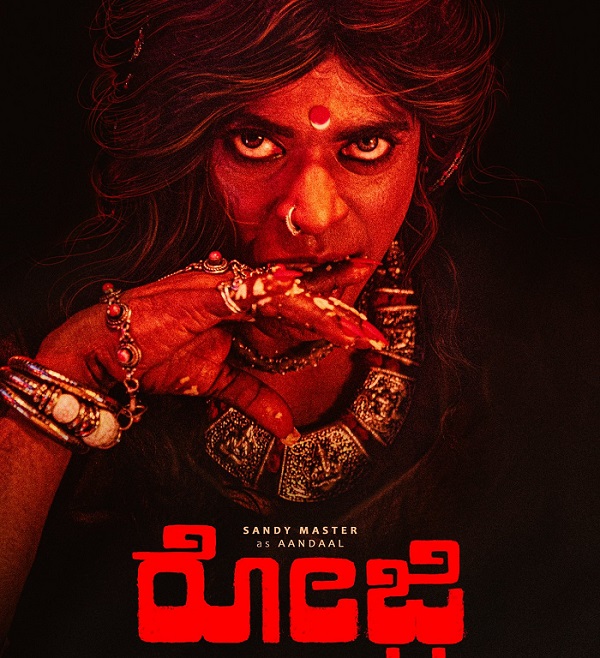 Top director Lokesh Kanagaraj Tweeted
"Couldn't be more happy to present the First Look of #RosyTheMovie @iamSandy_Off brother, super happy to see you in this new trajectory as an actor! My lovely wishes to you, the entire cast and crew of #RosyTheMovie."
The poster reveals Sandy in a menacing avatar, exuding an aura of intimidation with red splashes adding to the look of terror in the female form. This bold portrayal hints at a gripping gangster narrative, keeping the audience intrigued.
Sandy, who gained fame through his choreography in films like "3:33" and reality show Bigg Boss Tamil 3, has successfully transitioned into acting. His cameo role as a robber in the Vijay-starrer "Leo" received acclaim, particularly for his convincing performance as a goon. His versatility as an actor is further showcased in "Rosy," where he not only plays a lead role but also choreographs dance moves for the film.
Apart from his acting endeavors, Sandy continues to make his mark as a choreographer. He is slated to choreograph dance sequences for the Malayalam film "Pani," directed by Joju George and featuring an ensemble cast.
Sandy's journey from a celebrated choreographer to a promising actor in the diverse Indian film industry reflects his dedication and versatility. As "Rosy" prepares to captivate audiences, Sandy Master's multifaceted talent promises an exciting cinematic experience.
Apparently Rosy is the 50th film of Kannada actor Loose Maada Yogi. "Rosy" is set to release in multiple languages, including Kannada, Tamil, Telugu, Malayalam, and Hindi, expanding the reach of Sandy's debut as an actor.
Comments
comments