October 22, 2017
Sree Krishna Janisida Lyrics
Sree Krishna Janisida Lyrics: Sree Krishna Janisida is a song from the 1975 Kannada movie Devara Gudi, directed by R. Ramamurthy. The film was a remake of 1972 Tamil film Puguntha Veedu. Devara Gudi features Vishnuvardhan, Bharathi, Leelavathi, Manjula, Manorama, K. S. Ashwath, Rajesh, Shivaram, B. Jaya and others. This song was composed by Rajan-Nagendra with lyrics written by Chi. Udaya Shankar.  Sree Krishna Janisida was rendered by Vani Jayaram.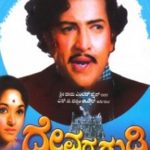 Sree Krishna Janisida Lyrics
Movie: Devara Gudi [1975]
Music Label: Saregama
Music: Rajan-Nagendra
Lyrics: Chi. Udaya Shankar
Singer: Vani Jayaram
Check out the lyrics here..
Gaadaandakaarada Irulalli
Kaarmoda Neeraada Veleyalli
Sree Krishna Janisida Dhareyalli
Devaki Iruvaaga Sereyalli
Sree Krishna Janisida Dhareyalli
Devaki Iruvaaga Sereyalli
Thandeyu Kanneera Kadalalli
Maavanu Kaavalu Baagilali
Sree Krishna Janisida Dhareyalli
Devaki Iruvaaga Sereyalli
Thaaya Sereya Bidisalende
Krishnananthe Bandeyenu
Geetheyannu Bhodisalende
Bhuvige Ilidu Bandeyenu
Neenu Banda Galaige Inda
Shokavella Theerali
Shanthi Soukya Nelesali
Sree Krishna Janisida Dhareyalli
Devaki Iruvaaga Sereyalli
Thandeyu Kanneera Kadalalli
Maavanu Kaavalu Baagilali
Sree Krishna Janisidha Dhareyalli
Devaki Iruvaaga Sereyalli
Nooru Ogatu Bidisi Naguva Jaane Ninna Thaayi Andu
Baalinogata Odeva Daari Kaanadaagi Aluvalindu
Nooru Nova Neegi Naliva Daari Bega Thorisu
Thaaya Aase Theerisu
Sree Krishna Janisida Dhareyalli
Devaki Iruvaaga Sereyalli
Thandeyu Kanneera Kadalalli
Maavanu Kaavalu Baagilali
Sree Krishna Janisida Dhareyalli
Devaki Iruvaaga Sereyalli
Devara Gudi Songs
Cheluveya Andada Mogake
Maamaravello Kogileyello
Kannu Kannu Ondayithu
Sree Krishna Janisida
Naa Bayasada Bhagya
Comments
comments